What Are We Trying to Accomplish?
Total Purchase Orders per Vendor is a report designed to organize the total unique POs and Lines for all Vendors for a select timeframe. The report will deliver all unique open POs and the total PO lines that exist for all SourceDay and Non-SourceDay vendors in alphabetical order.
How Do I Run This Report?
Once you run this report, a pop-up window of Report Settings will open for you to set the parameters of the report using the available filters.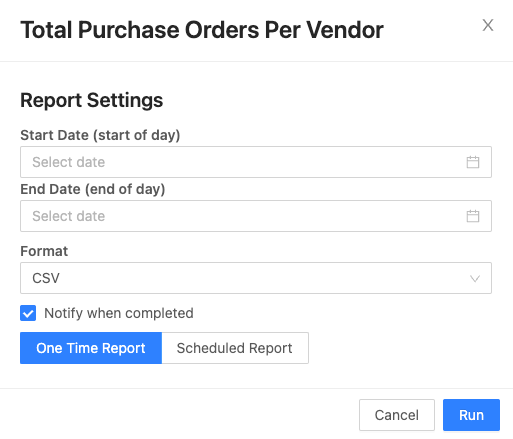 Select the Start Date of when you'd like to start generating the report.
Select the End Date of when you'd like to stop generating the report.
Currently, only CSV format is available.
Click "Notify when completed" to receive an email with a link to the report.
Note: When the report is complete it will be listed under Generated Reports.
Be sure to review and download a copy because this report will only be available for 14 days. You may need to refresh the page to view.
Select how you'd like to generate these reports:

One Time Report if you'd like to run this report once.
Scheduled Report to set up a schedule for these reports, click here to review Scheduled Reports.

Click Run to generate the report.
Keep Learning