What Are We Trying to Accomplish?
Just as you can customize the PO Dashboard with different filtering and searching you can do the same to the PO Exceptions Table. And just like the PO Dashboard, data on the Exception table can be exported.
How Do I Do It?

Filter

To use the filter to select specific Sites, Buyers, Planners, and Vendors:
Click on a filter option, and a side panel will appear to the left.
Select All or check any name or code, you'd like to manage.
Click Submit or Cancel.
Search
To the right of the dashboard, you will see a Search box. Search key terms, such as PO Numbers, Items, and Vendors.

Export
Left to the search box, there is an Export button to export data to a CSV file based on current view, filters, or search criteria.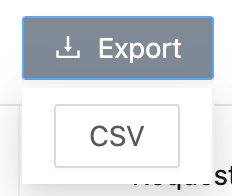 That's It!
You know the basics of using the PO Exceptions dashboard now. If you ever need to reference anything, here's the list of all relevant guides: