Coming Soon
One of the major enhancements coming to Invoice Automation is the ability to easily take action on multiple invoices simultaneously! This will enable users to work efficiently through invoices. Additionally the actions are now centrally located in one Action Menu instead of isolated at the invoice header level and invoice line level.
How Do I Take Action on Invoices?
To open the Action menu users will select the invoice or multiple invoices by click the open box at the invoice header.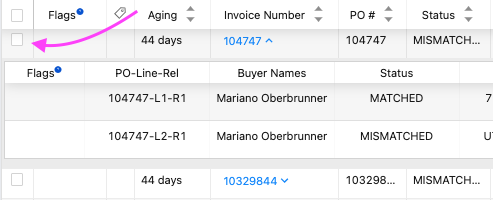 Once you select an Invoice, the Action Menu will fly out from the left. Available actions will be listed and actions not available for the selected invoices will be greyed out. Click on the Action Name to open the new Action Modal.
Depending on the Action selected the next window that pops up will vary. Generally each window will have a left navigation area, Invoice and PO summary data organized by Invoice, and the desired action to take per Invoice.