**Changes Coming Soon**
Keep reading for more details on how SourceDay Suppliers can access their POs via email - without a platform login.
What Are We Trying To Accomplish?
Once you set up a supplier for Unified Supplier Collaboration AKA PO Email Delivery your supplier contact will begin to receive emails that contain information about their orders.
There are 2 types of SourceDay supplier users:
Email Only Supplier User

They will receive virtually real time notifications for new POs (within 15 minutes of the PO coming into SourceDay from your ERP)
They will receive reminder emails for updates, orders as they hit radar, and late orders based on the frequency that you have set up in your admin settings in the section called "Schedule Supplier Reminder Emails"
Without logging into SourceDay these users can acknowledge orders, propose changes, review changes and mark orders as shipped via a PO link in their email
The email user has some limited functionality and can only work on one specific PO without logging into the system
If they would like to do more they have the option to create a login.
Platform User

The supplier can choose to act as an email user or platform user
Only the supplier can choose to become a platform user, you cannot set it for them
The supplier can look at all POs, not just the one from the email and take action across multiple POs
The supplier can choose their own email settings for how often they would like to receive notifications for new POs
The supplier has access to supplier reports, tasks, account settings, bulk imports and more from within SourceDay.
How Do I Do It?
Suppliers will start to receive notifications and they will have the ability to create an account as soon as you activate them. SourceDay will be sending them an email welcoming them, however, it is always a best practice to let your suppliers know that this functionality is coming and the expectations before activating them. You can even provide them with this guide to help them get started with PO Delivery.
1) Click on your name in the top right corner of the page to access your account settings.
2) Then choose "Account Settings"
3) The click on "External Vendors"
4) Find the user that you are wanting to activate for PO Delivery. Note: The user must be in your ERP as a vendor and being passed over to SourceDay in order to turn on this functionality.
5) Make sure that the user has the boxes checked as "Active", "Enabled" and "PO Delivery" once all 3 are added, then the supplier is considered "Activated" for PO Delivery.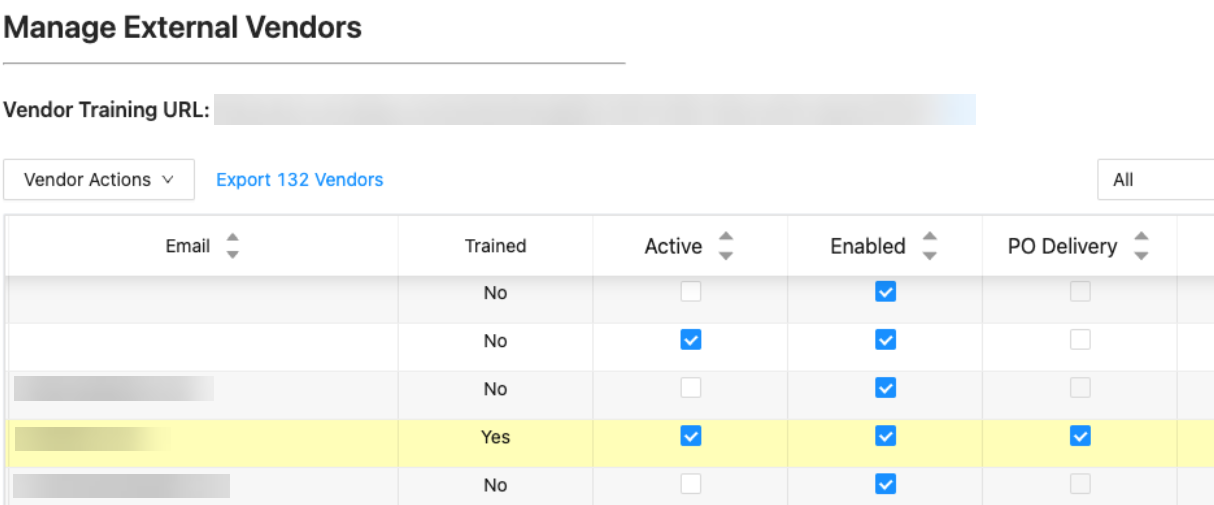 This Guide will take you through:
Activating a user as a SourceDay email user (you are here)