What Are We Trying to Accomplish?
The PO Details View is the only place that allows buyers and suppliers to view a PO in its entirety instead of by individual lines and releases. This gives the user a full picture of the status of every line of an order.
Where Can I See It?
Since this is such an important piece to understanding the overall picture of a PO, there are multiple ways to access this information.
From the Purchase Order Section
The PO view is available on all tabs as a column on the tables. Within the "PO" column, click on the PO number.

From the Tasks View
There are two ways within Tasks to get to the PO history.
If you are on the "Message" section click on "Links" and then "View Purchase Order"

From all other sections, click on "Purchase Order"

What Can I Do?
Review the percentage of the order that has been Acknowledged and Filled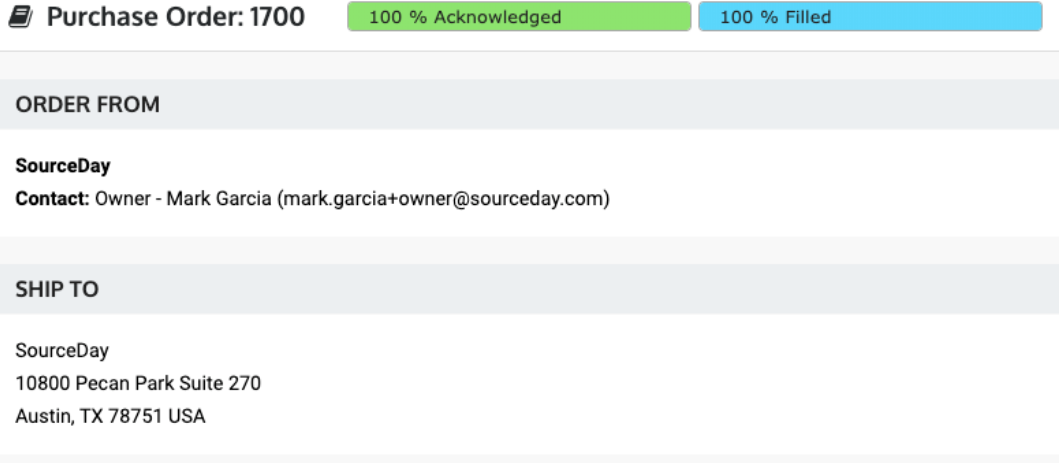 View the Order Sub-Total in the upper right-hand corner

Click the Actions dropdown on an order line to perform an action on 1 or more items
Review the History column
Click

View

to view the audit log
Click Attachments to view any attachments on that line

Click the Print PO Report button to generate a PDF copy of the PO to save or print

Click the Export as CSV button to export the PO data into an Excel (CSV) file
Click the checkbox next to Export Open Orders Only to only export orders that have not been Completed yet