The Mission
If you are looking to add organization to your Updates Tab you might want to explore the use of the Reminders Feature. Using Reminders Buyers can move order lines out of their Updates Tab without accepting or rejecting changes until a specific date. When a reminder on an order line is trigger, the line will display in the Updates Tab with a golden bell flag.
How Do I Set a Reminder?
1) Click the checkbox on the order line or lines you want to set a reminder for from the Updates tab and select Set Reminder from the Actions Menu fly out menu.
2) From the Reminder menu you will set the date to trigger the reminder and enter a comment in the Comment Box. Optionally you can select:
Remove from Updates Tab (this removes the order line from your Updates Tab until the date is reached; the order line will still be viewable from the Open Tab).
Cancel Reminder if Supplier Proposes Update (this will remove the reminder if the supplier proposes an update).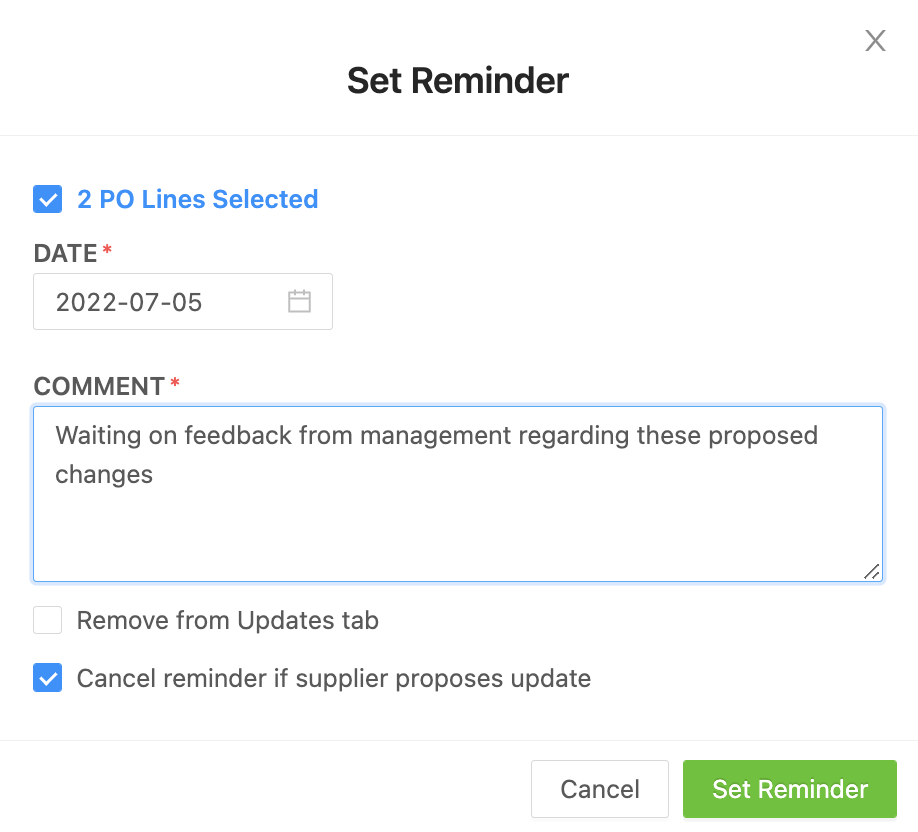 How Do I View Reminders?
1) Click on the Reminders filter just above the dashboard, the number in the red circle will display the number of reminders you have set.

2) View Upcoming Reminders (reminders that have not reached the trigger date you selected when setting the reminder)
Optionally you can remove a reminder using the Actions available - this will remover the reminder and display the order in the Updates Tab
3) Scroll down to view Triggered Reminders (reminders from the last 30 days)
Remember once a reminder has been triggered the order line will now have a golden bell flag and redisplay in the Updates Tab (if it was removed).
How Do I Remove Reminders?
Reminders can be removed from the Reminder Page using the Remove Action.
What Happens When Reminders are Triggered?
When the date set on the reminder is reached a couple of things will happen.
1) The PO Line will now have the golden bell icon added to the flag columns; this will be removed when the buyer accepts or rejects the proposed change from the supplier.

2) If the buyer opted to remove the PO Line from the Updates Tab when setting the reminder, the PO Line will now be displayed under Updates.