Changes Coming Soon
Keep reading for a sneak peak of how email settings are changing.
The Mission
One of the key features of SourceDay is know when POs need attention or action from both the Buyer and Supplier perspective. SourceDay takes care of this by sending notifications to either the Buyer or Supplier when POs need an update. Emails Notifications in each buyer's Account Settings gives buyers the ability to control the frequency of notifications they receive from SourceDay, enable email forwarding, and set up reminder notifications for their suppliers. Note this is an account setting available for all buyers.
How Do I Do It?
Click on your name dropdown in the upper right-hand corner, click Account Settings, then select Email Notifications option on the left side of the screen.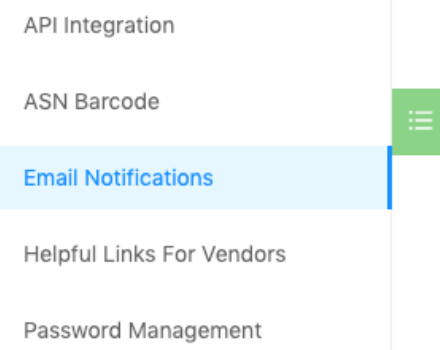 Vendor Email Updates From POs
Click on the dropdown to change the frequency of notifications you, the buyer, receive from supplier updates.
Live - Live emails for each individual change; recommended for those first getting started
Hourly (

Default

) - One bulk email an hour if any updates occurred during that hour
Daily - One bulk email a day if any updates occurred throughout the day
Weekly - One bulk email a week if any updates occurred throughout the week

PO Updates
Select the frequency of email notifications you receive on PO changes from suppliers.
Hourly Digest - summary of POs with line changes within the hour

Daily Digest - summary of POs with line changes that day

Weekly Digest - summary of POs with line changes occurring within the week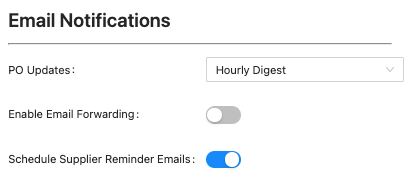 Enable Email Forwarding
Decide who else should received email notification on your POs. This is feature will add additional recipients of the email notifications sent to you. This will enhance your teams internal collaboration and ability to schedule coverage in case you are out of the office.
1) Click the toggle to Enable Email Forwarding
2) Click the dropdown next to First Forwarding Email to select another SourceDay user to forward your notification emails to; you may add more than one SourceDay user using by filling the Second Forwarding Email and the + Add item box on the Add Email Forwards line to type in any emails for contacts outside of SourceDay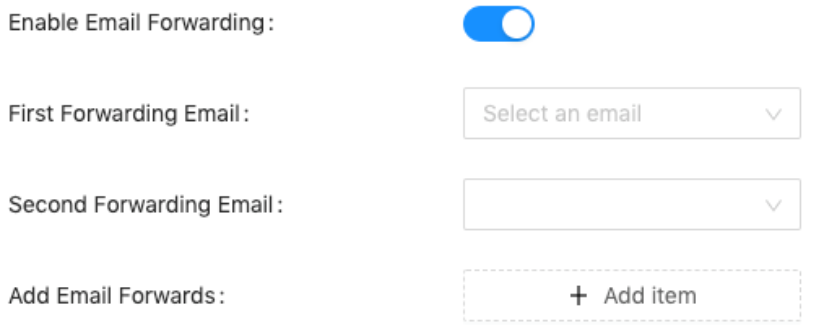 Schedule Supplier Reminder Emails
These are the notification SourceDay will send to your suppliers on POs in your name. You can decide how often to sent reminders to Suppliers for orders that are Pending, Awaiting Response (ie Supplier Update's Tab), Late, Radar, or Hot.
1) Click the toggle to enable and to schedule Supplier Reminder Emails
2) Click the checkboxes on the days you want your suppliers to receive reminders based on the status or action needed for POs you create. This is a setting available to all buyers.
Awaiting Vendor Response - Order lines waiting for a response or action from your supplier
Pending - New order lines waiting to be acknowledged by your supplier
Late - Order lines currently past their Due Date or Ship Date
Radar - Order lines coming due within the range set for that supplier
Hot - Order lines marked as hot

Active Vendors
As the Admin on the account you will also have the ability to disable reminder notifications and all automated SourceDay notifications for individual suppliers. These actions will stop a supplier from receiving email notifications from SourceDay. Use only in the instance that you are phasing out a supplier.

Click the checkbox under the Disable Tab Based Notifications column to disable that supplier from receiving the reminder email notifications set by the Tab Based Recurring Notification settings above

Click the checkbox under the Disable Automated Action Emails column to disable all automated email notifications sent from SourceDay for that supplier. Use this with discretion as the supplier will no longer receive emails from SourceDay if this box is checked.

Save
Click the Save button at the bottom to save.
Keep Learning