The Mission
SourceDocs can be a real time saver and can allow you to save important documents to Buyers, Suppliers, PO lines, Shipping Docs and Items/Parts. In this learning path we will help you to understand how to gain value by using SourceDocs.
SourceDocs gives buyers and suppliers the ability to share documentation and picture files by attaching to companies, purchase orders, purchase order lines, and items. Suppliers can use SourceDocs to upload drawings, special instructions, and announcements. Once they are added, an email will be sent to the receipt. For example, if you have a design doc and product image that would be helpful to provide with a PO, you can attach these docs to the item and each time that item is added, your documents will be added as well. Best of all, these attachments can be accessed and organized from your SourceDocs library.
Let's Take a Look
There are a couple of ways that you will see SourceDocs as you navigate the PO application.
From your Account Details
You can see all of your SourceDocs by clicking on the little arrow next to your name in the top right-hand corner and choosing "SourceDocsTM"
From here you will see a listing of all documents that are being used in the application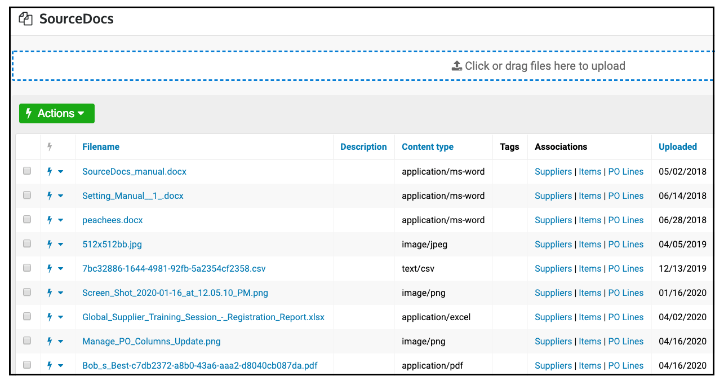 From the PO Views
You can get to the PO views by clicking "Purchase Orders" at the top of the page. From there, available SourceDocs will appear in the PO Column, next to the PO number as a paper clip. When you click on the paper clip it will open a new window with your attachments.
Incoming Docs
Attachments that have been shared with you will appear in the Incoming Docs module at the top of your platform screen.

What Can I Do?
There are some different ways that you can interact with SourceDocs based on whether you are wanting to make the same changes to a lot of documents or just need to make updates one document at a time.
Load Documents
Valid document types:
jpg, jpeg, gif, png, pdf, xls, doc, docx, xlsx, zip, rar, 7z, dwg, txt, idw, tif, dwf, slddrw, sldprt, dxf
File size limitations:
200MB
View the History of All Your Documents
Click the History option in the upper right-hand corner of the SourceDocs Library to review the entire history of uploads, deletions, and attachments in the SourceDocs module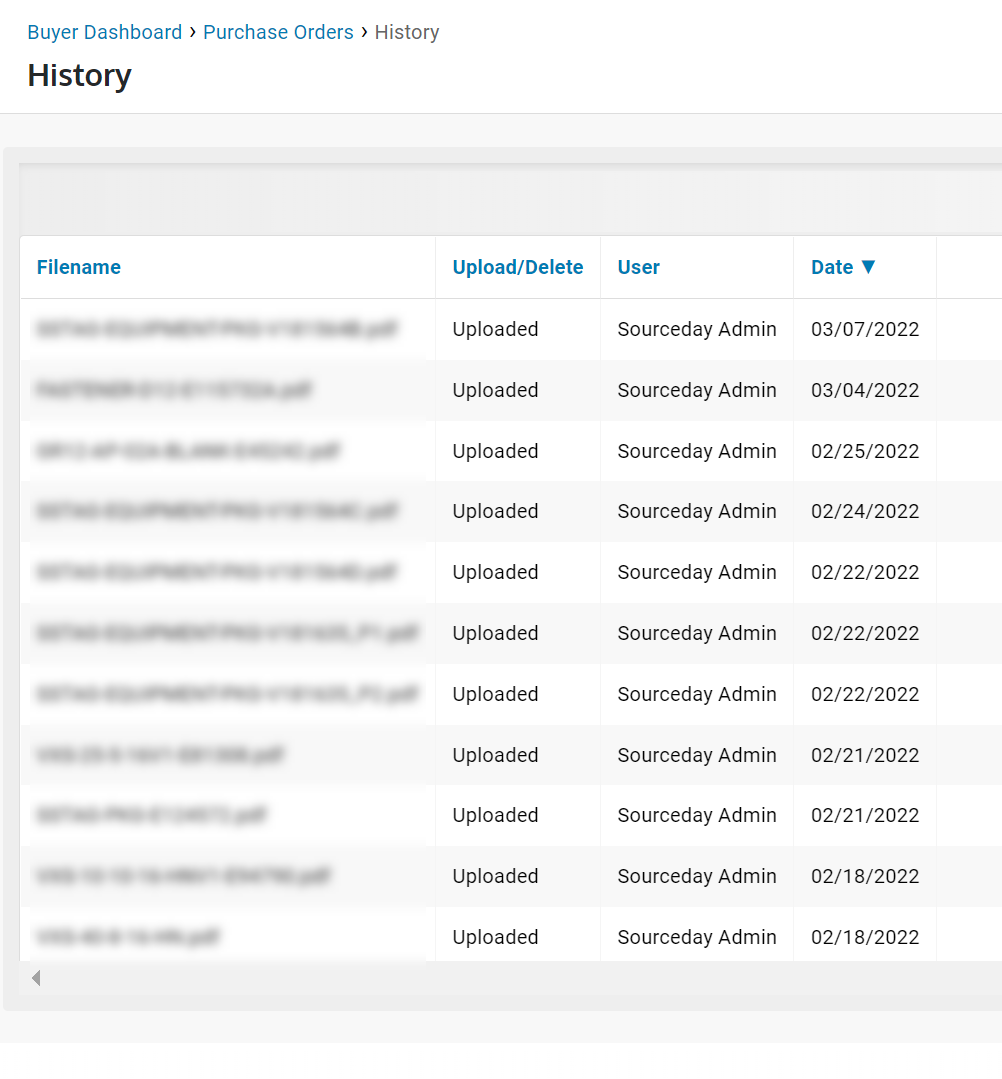 Search for Documents
Type in a File Name, Description, or Tag in the Search boxes and click on the magnifying glass icon to search for a particular attachment in your library
Bulk Actions Across Multiple Documents
Single Document Actions