The Mission
If you have ever wanted an easy way to export a csv/excel file of all of your Vendors listed within your ERP, this is a great place for you. The External Vendors page allows Admins to view supplier information we are syncing directly from the ERP and enable/disable suppliers and push syncs from the ERP - and export an excel/csv.
This section is primarily used by SourceDay when onboarding suppliers.
How Do I Do It?
1) Click on your name dropdown in the upper right-hand corner & select Account Settings. Select the External Vendors option on the left side of the screen.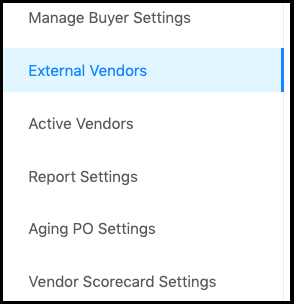 This page will give Admins the ability to enable Vendors to use SourceDay, review the information as listed within your ERP, and search for specific vendors.
Vendor Actions
Click on the Vendor Actions dropdown on the top left of the vendor list to select an action from the dropdown menu. Actions are:
Disable All Vendors (DO NOT USE)

This action will turn all vendors off which would disable any active vendors from accessing SourceDay and their POs

Enable All Vendors

This action enables all suppliers syncing from your ERP to be able to be onboarded and trained in SourceDay

Sync All Vendors

This action syncs your ERP to SourceDay to pick up any new suppliers or changes made to supplier information in the ERP
Search
Type in a supplier company name, contact name or email into the search box and click the Search button to quickly find a specific supplier.
Review
Review the supplier information and see which suppliers have been enabled for SourceDay

Keep Learning