The Mission
If you have ever wanted an easy way to export a csv/excel file of all of your Vendors listed within your ERP, this is a great place for you. The External Vendors page allows Admins to view supplier information we are syncing directly from the ERP and enable/disable suppliers and push syncs from the ERP - and export an excel/csv.
This section is primarily used by SourceDay when onboarding suppliers. Changes made to this can adversely affect your suppliers, please bring in support or your CSM if you are unsure of any items on these pages.
How Do I Do It?
1) Click on your name dropdown in the upper right-hand corner & select Account Settings. Select the External Vendors option on the left side of the screen.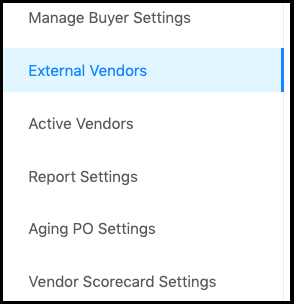 This page will give Admins the ability to enable Vendors to use SourceDay, review the information as listed within your ERP, and search for specific vendors.
Vendor Actions
Click on the Vendor Actions dropdown on the top left of the vendor list to select an action from the dropdown menu. Actions are:
Disable All Vendors (DO NOT USE)

This action will turn all vendors off which would disable any active vendors from accessing SourceDay and their POs

Enable All Vendors

This action enables all suppliers syncing from your ERP to be able to be onboarded and trained in SourceDay

Sync All Vendors

This action syncs your ERP to SourceDay to pick up any new suppliers or changes made to supplier information in the ERP
Filter
Filter the results set in order to narrow down the updates that you need to make.
All

Returns all external vendors

SourceDay

Returns all SourceDay suppliers

Non-SourceDay

Returns all non SourceDay suppliers

Enabled

Returns all suppliers that can be set up for SourceDay

Targeted (DO NOT USE)

Returns all suppliers that have been set as targeted - NOTE: This is an internal only value - this should not be clicked and should always return zero results
Search
Type in a supplier company name, contact name or email into the search box and click the Search button to quickly find a specific supplier.
Review
Review the supplier information and see the current setup for your suppliers:

ERP Vendor ID

The vendor ID from the buyer's ERP

ERP Instance

For companies that are integrated with more than one ERP, this will show what ERP the supplier information is feeding from

Name

Name for the supplier company as pulled from the buyer's ERP

Contact

Name of the supplier contact pulled from the buyer's ERP

Email

Email for the supplier pulled from the buyer's ERP

Trained

The supplier has completed training

Active

The supplier has been set up as a SourceDay supplier

Enabled

The supplier has been set so they can be set up as a SourceDay supplier

Targeted (DO NOT USE)

This field should not be used, it is an internal SourceDay field, clicking on this can cause unintended effects for your suppliers

Locked (DO NOT USE)

This field should not be used, it is an internal SourceDay field, clicking on this can cause unintended effects for your suppliers

PO Reports

Allows you to enable/disable your supplier's ability to save and print PO PDFs

Scorecard

Allows the supplier to view the Vendor Scorecard

Radar

Click the dropdown under the Radar column to set the radar range for your supplier. This drives items moving to the radar tab to remind the supplier when orders are coming due. This helps the supplier to prepare orders to ship out on time to meet their due or ship date.

Ready to Ship

Is this a ready to ship supplier. This would be an instance where the buyer is responsible for shipment from the supplier.

Adjusted Due Date (dependent on integration settings)

This is a setting that is set as part of your integration allowing your supplier to enter the shipping date for the due date instead of the date that the item should appear at your warehouse. Changing the value will change how due dates are managed with your suppliers.

Spend Type

Changes how spend is calculated within the SourceDay application.

Direct
Indirect
Mixed
Not Specified
Keep Learning