The Mission
Often times we need to be able to see a particular matter from other's perspective and maybe even make a few adjustments to help them see better. Manage Buyer Settings allows the Admin the opportunity to do just that! With these feature Admins can view the user accounts for their buyers and viewers in SourceDay, set required password changes, deactivate accounts, and impersonate accounts.
How Do I Do It?
Click on your name dropdown in the upper right-hand corner, click Account Settings, then select Manage Buyer Settings option on the left side of the screen.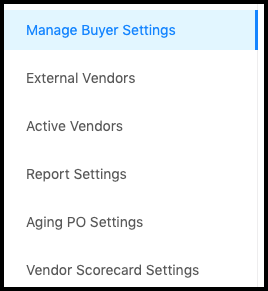 Owner Buyer Settings ** Moving Soon to API Settings**
Input the buyer name as it appears in the ERP and select Update Settings. This will insure SourceDay is pulling in buyer POs and displaying them under the correct user. Each buyer on the account will have access to updating this setting.

Password Settings
Admins can set a required password change for you and your buyers and control the frequency for password expiration from 1, 3, or 6 months.
Buyers List
Review the list of your active buyers and viewers that have been enabled for SourceDay. There are a few powerful Actions available here for Admins (see below for discussion).
User Name - User name as it appears in SourceDay
ERP Buyer Name - Buyer name as it appears in the ERP
Email - User email address for the user's account and login
Roles - Current roles for the user (member, viewer, quality)
Created - Date and time the user account was created in SourceDay
Last Login - Date and time of the last login by the user in SourceDay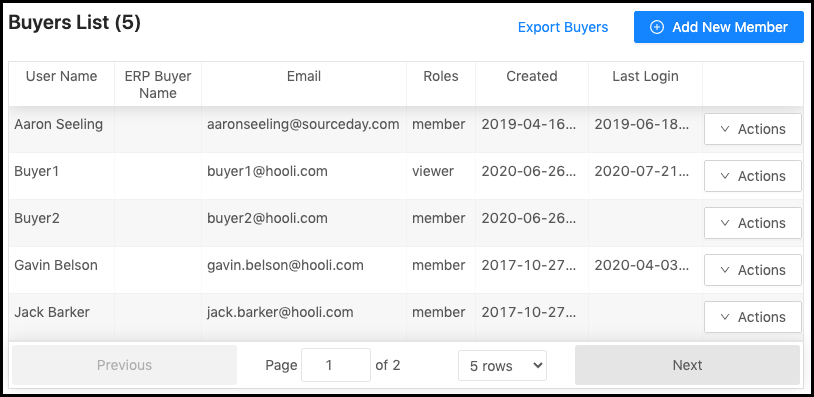 Buyers List Actions
At the end of the user row is a drop down menu of Admin Actions. Admins can Deactivate a buyer or Reactive a buyer, Mange the buyer's Role, or Switch Account.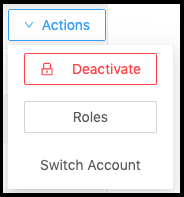 Reactivate/Deactivate
Click the Reactivate button to reactivate a previously deactivated account. This will allow that user to access their account and receive notifications. Click the Deactivate button to deactivate a current user account. This will prevent the selected user from accessing their account and receiving notifications.
Roles
Click the Roles button to access the Manage Roles screen. If you need to change a role, please reach out to your Customer Account Manager to ensure you have the available purchased licenses.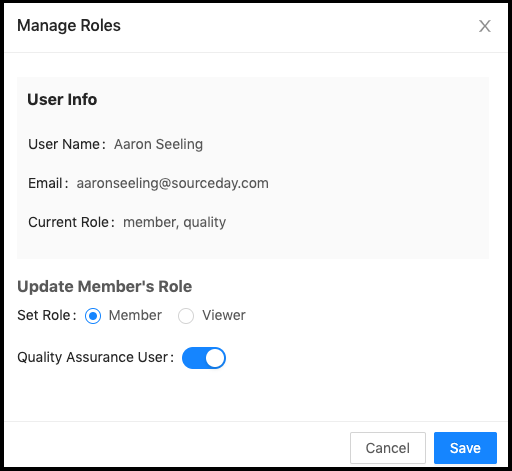 Switch Account
This allows an Admin to login and impersonate another user in SourceDay
1) Click on the Switch Account button

2) View and take actions under that user
3) Click on the user's name in the top right-hand corner
4) Select Switch Back to take you back to your own view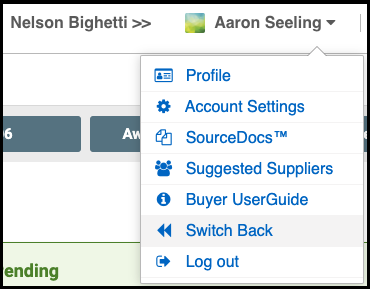 Keep Learning