What Are We Trying to Accomplish?
*Changes are coming. The Edit Unit Price & Qty will be rolled into the Edit Action. Click here for a sneak peak at the end of the article.
The Edit action for an order line allows you, the accountant, to manually edit the Unit Price and Quantity on an order line if a mismatch occurs. This allows you to manually fix a mismatched invoice without requiring a new invoice or correction. This should only be used if you need to correct a rounding error or conversion issue.
Available for: Awaiting Receipt, Matched and Mismatched views
How Do I Do It?
1) Click the blue lightning bolt dropdown on the PO line or release
2) Select Edit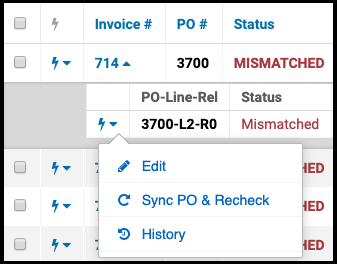 3) Manually update the Unit Price and/or Qty on the invoice
4) Click the Update button