What Are We Trying to Accomplish?
*Changes are coming. Keep reading for sneak peak of Invoice Automation updates at the end of this article.
The Edit action for an invoice allows you, the accountant, to add additional charges that may not be present on the invoice or need to be added after the item has been received. The options found in the Edit screen are based on your GL codes that have been entered in your Invoice Automation settings. Additionally you can to manually edit the Unit Price and Quantity on an order line if a mismatch occurs. This allows you to manually fix a mismatched invoice without requiring a new invoice or correction. This should only be used if you need to correct a rounding error or conversion issue.
Available for: Awaiting Receipt, Matched and Mismatched tabs
How Do I Do It?
1) Click the blue lightning bolt dropdown on the invoice line
2) Select Edit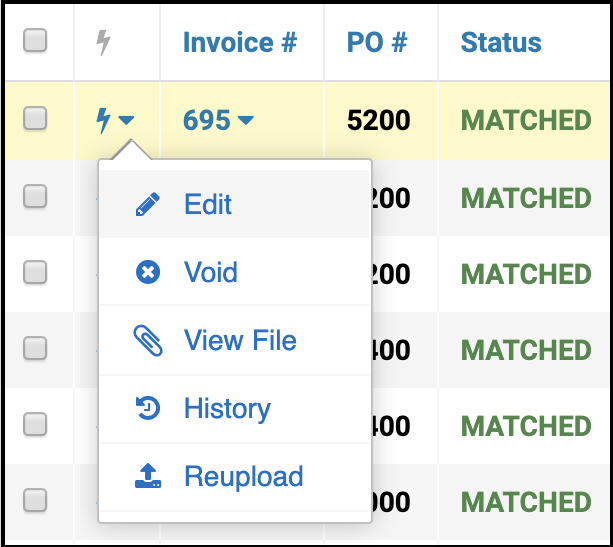 3) Enter any additional charges based on your GL Codes
4) Click the Update button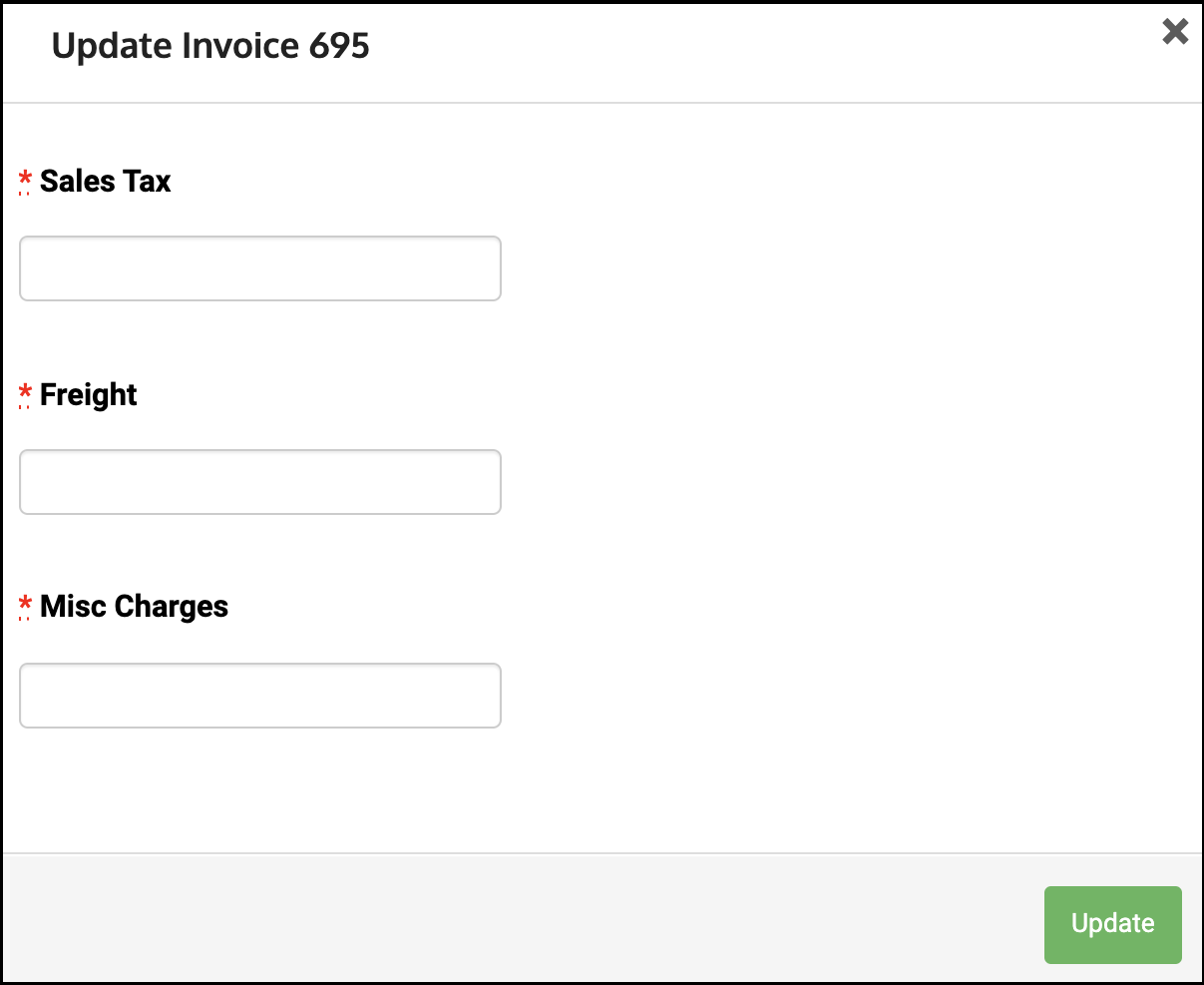 **Coming Soon**
Here's a sneak peak of changes coming soon to Invoice Automation. The Reupload action will be changing to allow users to easily download or view multiple invoices.
1. From any tab select the invoice by clicking on the open box. This will open an Action Menu. Note you can select ALL the invoices in the tab by clicking on the open box in the header line. You can also select multiple invoices to perform this action in bulk!

2. Depending on the tab the Action Menu will look differently, select Edit.
3. In the Edit window there are navigational features designed to help you move between invoices (left side) and the ability to collapse or expand invoice summary using the arrows next to the invoice number or the Collapse All/Expand All button on the top right.
To add additional charges to the invoice based on your GL Codes add those in the corresponding boxes under the Invoice Number (top area).
To Edit the Quantity or Unit Price on the invoice lines simply update the text boxes under Qty (Invoice) & Unit Price (Invoice).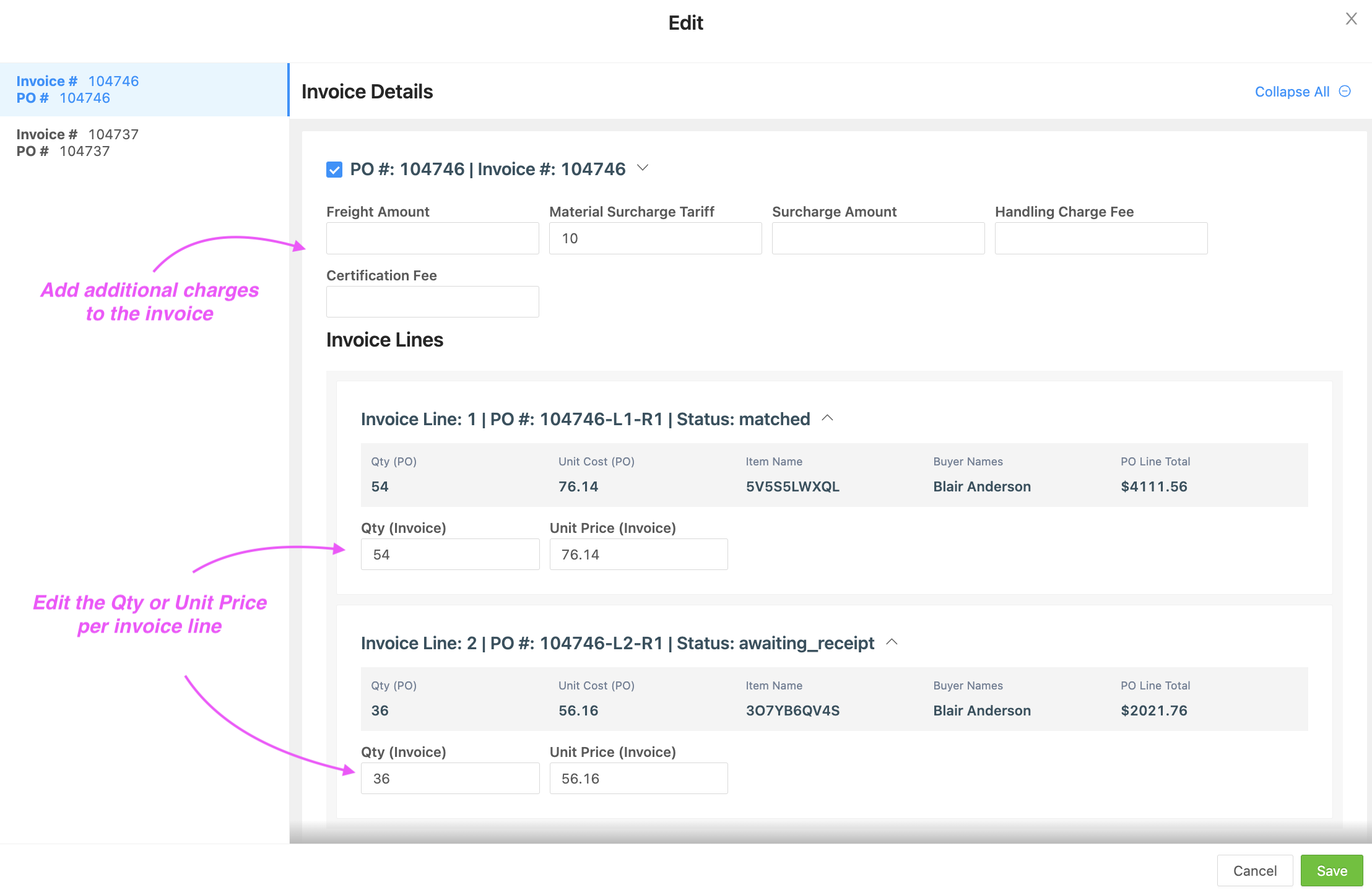 Keep Learning
Understanding the Needs Review Tab
Understanding Awaiting Receipt Tab