Updates Coming Soon!
Source Day is getting a new look with a new and improved interface. Keep reading for sneak peaks on the new action menus.
What Are We Trying to Accomplish?
Invoices that have been marked as paid in the ERP will appear under your Paid tab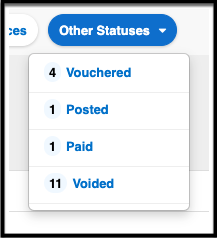 Soon, the 'Paid' tab will appear alongside all other invoice statuses.
Where Can I See It?
This tab will show you all active paid items in the application. You can access the view by clicking on Other Statuses and then clicking on Paid.
What Can I Do?
Download - Downloads all of the invoices that you have selected
View File - Views the invoice and the upload time and date
History - Views the invoice or order line history from the moment it syncs into the platform until the invoice is paid
Upload File - Uploads documents to attach to invoice record
Add a Note - Allows you to add a note to the record