Supplier Performance allows buyers and admins to track the overall performance of their suppliers in the SourceDay platform. This feature will break down each metric in a percentage or value and allow you to sort and compare your supplier's performance. The Scorecard feature will need to be configured first before you can accurately use this feature.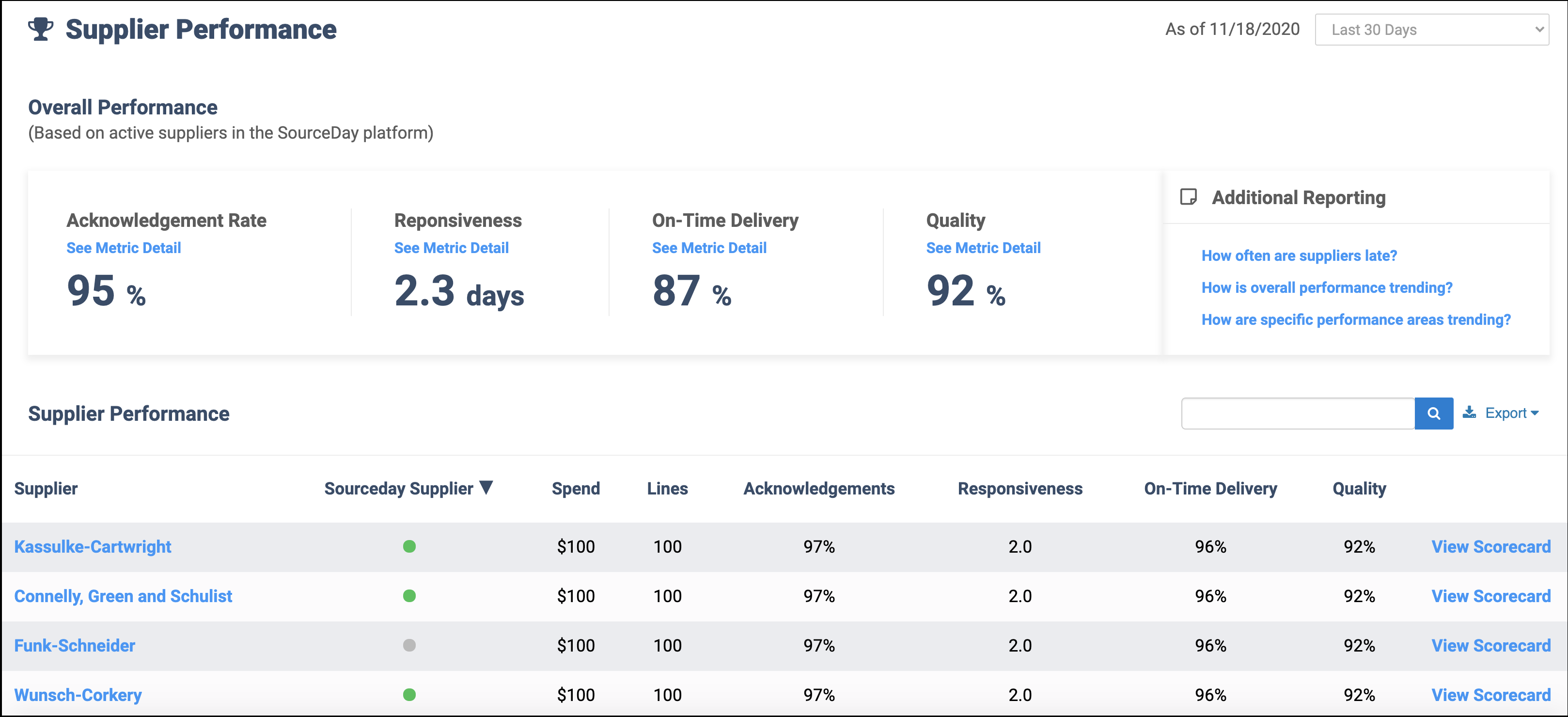 1) Click on the Performance Insights dropdown
2) Click on the Supplier Performance option
Overall Performance
This section will allow you to view the overall performance of all suppliers across each of the 4 metrics SourceDay tracks.

Acknowledgment Rate
The overall acknowledgment rate is the percentage of purchase order lines that are acknowledged by SourceDay suppliers.
Responsiveness
The overall Responsiveness rate is the average time it takes your SourceDay suppliers to acknowledge purchase order lines and respond to update requests.
On-Time Delivery
The overall on-time delivery rate is the percentage of receipts that are received (based on your ERP's receipt date) within 0 and 2 days of the due date as a percentage of all receipts during the period. Early deliveries are not penalized.
Quality (Only Available if you have the SourceDay Quality Module)
The overall quality score is based on the Item Ratio method, which highlights the percentage of received items without defects using the following formula:
(Number of Parts Received - Number of Defective Parts) / Number of Parts Received
Date Range
Adjust the Date Range by clicking on the dropdown in the upper right-hand corner

Additional Reporting
The section will provide you with direct links to reports that measure supplier performance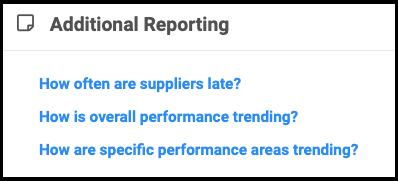 Suppliers
This section will allow you to view each supplier's individual performance for each of the 4 trackable metrics. This section will also allow you to quickly view all open lines with your supplier and their current spend.

Click on the column header to sort by that column
Supplier - Supplier name as it reads in SourceDay, click name to access the supplier's open orders
SourceDay Supplier - The Green Dot indicates that the supplier is a current SourceDay supplier
Spend - Current spend of all active order lines in SourceDay for this supplier
Lines - Number of active order lines in SourceDay for this supplier
Acknowledgments - Percentage of purchase order lines that are acknowledged by the supplier
Responsiveness - Average time (days) it takes your supplier to respond in SourceDay
On-Time Delivery - On-time delivery percentage based on receipts that are received in ERP
Quantity - Percentage of inspected items that are defective against how many are received
View Scorecard
Click the View Scorecard link at the end of your supplier's performance to access the supplier's individual scorecard

Search & Export
Use the Search box to search for specific suppliers
Use the Export dropdown to generate a CSV/Excel file of your supplier's performances