What Are We Trying to Accomplish?
The Download action gives accountants the ability to download copies of invoices directly out of the Invoice Automation platform. You can download an individual invoice or download multiple invoices at a time. This enables you to be able to pull any invoice loaded into SourceDay (drag and drop or emailed in) and the option is available from all views.
How Do I Do It?
1) Check the boxes next to each invoice you would like to download
2) Click the green lightning bolt Actions dropdown
3) Select Download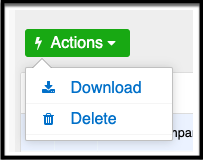 Individual invoices will download as a PDF file. Multiple invoices will download as a ZIP file.