What Are We Trying to Accomplish?
Keeping track of documents related to an existing invoice can be tricky. The Upload File action allows you, the accountant, to add reference documents and Non-PO files to an invoice record.
Available for: All views except the Pending Processing and Needs Review view
How Do I Do It?
1) Click the blue lightning bolt dropdown on the invoice line
2) Select Upload File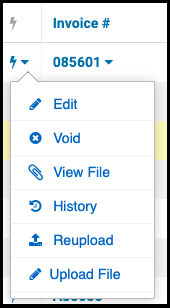 3) Click the box to upload from your computer or drag and drop your files into the files area to upload the files
4) Click the Done button