Question
How do I set my non PO invoice as completed and ready to be paid?
Answer
Submitting a non PO Invoice will basically be equivalent to saying that this invoice is ready to be paid. This is not a step that can be undone. You will want to ensure that all GL values are added and everything looks correct prior to submitting the invoice. Remember ALL Non PO Invoices must be approved before they can be submitted. Click to review the Non PO Approval Process.
Available for: Non PO view
How Do I Do It?
After editing and updating the Non PO Invoice and you are ready to Submit it to your ERP, select Submit from the blue lightening bolt action menu on the Non PO tab.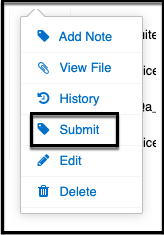 The specifics of the invoice will appear for one last review prior to submitting, if you need to make changes, this is the last time you will be able to update these values outside of your ERP.
Endpoint (if applicable)
Site (if applicable)
Vendor
Location ID (if you are using Netsuite as your ERP)
Payment Term Code (if applicable)
GL Numbers
Once submitted, the status will update to Submit in Progress, and then Submitted to ERP once the sync with your ERP is complete.
If there is any failure, the status will be shown as Submit Fail and you can view the invoice history to see why the submission failed.
Keep Learning
Spotlighting New Functionality
Non PO functionality is currently available for Syteline, Epicor (Cloud/OnPrem), Netsuite, Visual (Standard and Global Financials)
Other ERPs will be added over time