Changes Coming Soon
Keep reading for a sneak peak of changing coming soon.
Question
How do I submit my Non PO invoice as completed and ready to voucher?
Answer
Submitting a Non PO Invoice will basically be equivalent of saying that this invoice is ready to be paid. This is not a step that can be undone. You will want to ensure that all GL values are added and everything looks correct prior to submitting the invoice. Remember ALL Non PO Invoices must be approved before they can be submitted. Click to review the Non PO Approval Process.
How Do I Do It?
Once the Approver in SourceDay has approved a Non PO Invoice the status will be updated to Approved. This Non PO Invoice is ready to be submitted to the ERP. When you are ready select Submit from the blue lightning bolt action menu on the Non PO tab. Note: The lightning bolt action menu will be updating for all customers soon. Users will click on the open box to open the Action Menu. See below for more details.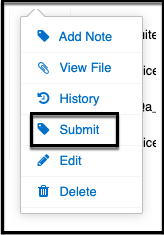 The specifics of the invoice will appear for one last review prior to submitting, if you need to make changes, this is the last time you will be able to update these values outside of your ERP.
Endpoint (if applicable)
Site (if applicable)
Vendor
Location ID (if you are using Netsuite as your ERP)
Payment Term Code (if applicable)
GL Numbers
Once submitted, the status will update to Submit in Progress, and then Submitted to ERP once the sync with your ERP is complete.
If there is any failure, the status will be shown as Submit Fail and you can view the invoice history to see why the submission failed.
Changes Coming Soon
1. Select invoices that are in an Approved Status by clicking the open box on the left side of the Invoice Line. Remember invoices can be filtered based on status using the blue status button.


2. From the fly-out Action Menu select Submit to ERP.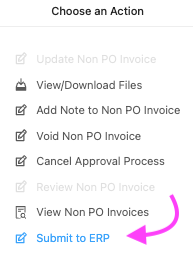 3. Be sure to review all the data entered at the invoice level (Payment Term Code, Integration Endpoints, Site, & Vendor). Then review the GL Numbers assigned at the line level before submitting the invoice.
Onced reviewed make your selection of Hold or Submit on each invoice.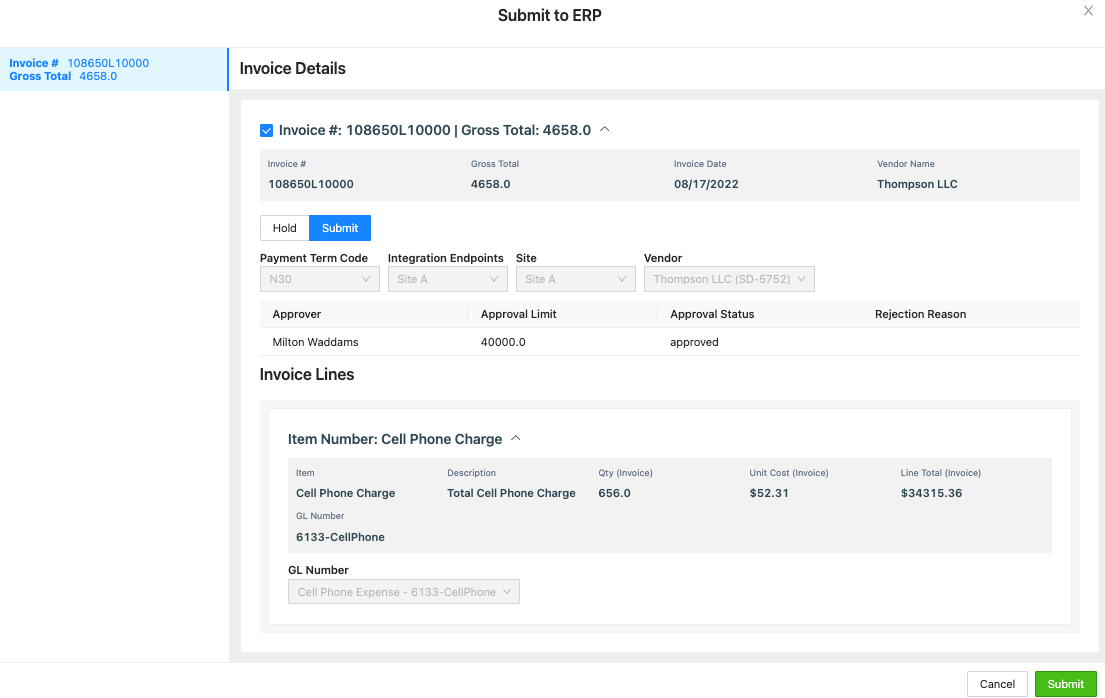 4. If you notice that you need to make changes you can click on cancel to close the entire window. If you just need to update a few then the Hold action may be best. Hold will allow you to submit other invoices you are reviewing and keep that invoice in an Approved status. To make changes to that invoice select Cancel Approval Process then Update Non PO Invoice.
Keep Learning
Spotlighting New Functionality
Non PO functionality is currently available for Syteline, Epicor (Cloud/OnPrem), Netsuite, Visual (Standard and Global Financials)
Other ERPs will be added over time