Question
What Do the Icons on My Views Stand For?
Answer
The icons or flags represent important information or modifications made to an invoice or invoice line. These flags will appear as icons at the beginning of an invoice or invoice line.

Please note that any invoices with the Possible Over Invoice flag will not automatically voucher if auto voucher is turned on for that supplier. The reason for this is to prevent the possibility of a duplicate voucher.
The user can still take the voucher action on the tab, however we recommend to verify invoices with this flag against your ERP system so that you do not unintentionally voucher for more than what was received and/or create a duplicate voucher.
Types of Flags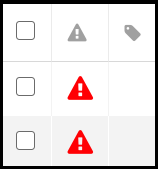 Warning Icon Flags

1. Possible Over Invoice or Possible Over Invoice Line
An invoice or invoice line where the cost or qty on the invoice is greater than the cost or qty on the PO or receipt or that the invoice was vouchered outside SourceDay.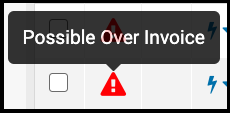 .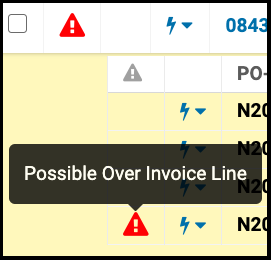 2. Template is Not Enabled
SourceDay is now capable of flagging invoices when the Vendor defined on the invoice does not have an enabled invoice template. If an invoice is flagged with the warning, "Template is not enabled for supplier", then the invoice will not be auto-vouchered; so that the Accounts Payable clerk can give this invoice a review prior to submitting the invoice to their respective ERP for vouchering

Tag Icon

This icon represents an invoice that has had a note added to it. You can access these notes in the History of that invoice.