What Are We Trying to Accomplish?
Once sent, the suppliers will have access to the unique email address that they can use to send invoices directly to SourceDay. The instructions will be sent to the billing contact for that supplier, so make sure that the supplier is set up prior to sending this email. Once the supplier starts to send these invoices directly to SourceDay, you will no longer need to upload these to be processed into the Invoice Automation application.
Note: Only suppliers that have an active template available will have a system generated unique email address for invoice delivery. To learn more about requesting a template click here.
How Do I Do It?
1) Click on the link "Suppliers" at the top of the page
2) Click the blue lightning bolt dropdown next to the supplier's name
3) Select Send Email Instructions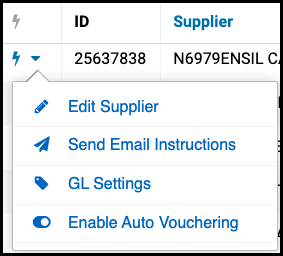 You Can Also Resend Email Instructions if Necessary
1) Click the blue lightning bolt dropdown next to the supplier's name
2) Select Resend Email Instructions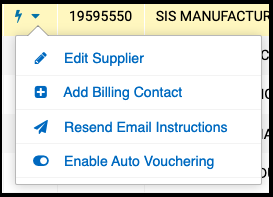 Supplier Email Example