What Are We Trying to Accomplish?
Supplier settings allow you to manage your suppliers separately based on the relationship you have with that supplier. This is where you will:
Enter billing contact information

Enable suppliers to send their invoices via email

Enable suppliers to receive notifications when an item is posted or paid
How Do I Do It?
1) Click on the "Suppliers" link at the top of your page
2) Click the blue lightning bolt dropdown next to the supplier's name
3) Select Edit Supplier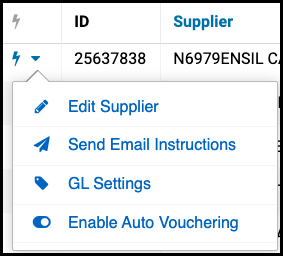 4) Once there, set your billing contact for the supplier. You will need the following information handy:
First Name

Last Name

Email
5) Determine the level of visibility that you would like this supplier to have and check the boxes accordingly:
Email Invoice Delivery
Check the box marked Allowed to allow your supplier to submit their invoices directly into the platform through email
Email Invoice Status (Paid / Posted)
Check the box marked Allowed to send your supplier notifications when a vouchered invoice moves to the posted and/or paid status in your ERP
6) Click the Submit button when done