What Are We Trying to Accomplish?
Buyers can mark lines as hot with the Mark Hot action to indicate to a supplier that an order is of high importance or needs to be expedited. This action allows the buyer to select multiple lines with the same vendor or with multiple vendors as long as the reason is the same. The buyer will provide a reason for the order being marked as hot which will be sent as a notification to the supplier. All orders marked as hot will appear under the Hot tab with a flame icon. This flame icon will appear next to the order regardless of what other views and statuses it may be under.
How Do I Do It?
You will need to be in the Purchase Orders section in order to mark a PO line as Hot. You can get to this section by clicking on "Purchase Orders" at the top of your page.
Marking a PO Line As Hot
1) Select the lines you want to mark as hot by clicking the checkbox next to each line
2) Once you click the first checkbox the Choose an Action flyout menu will appear on the left side
3) Click Mark Hot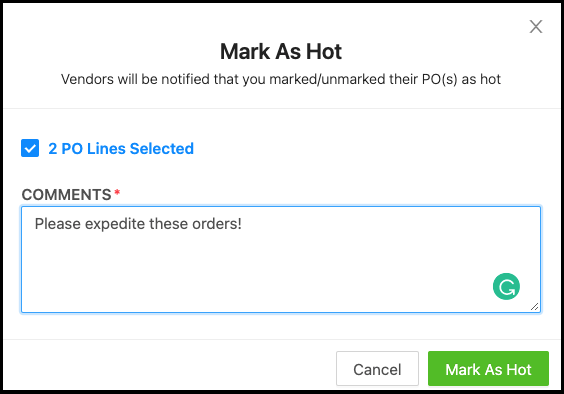 4) Enter your message in the Comments field as to why this order is hot, this will be visible to the supplier.

5) Click the Mark As Hot button to mark the order as hot and send the message to your supplier
6) Once an order has been marked as hot, a flame icon

will be visible next to the order in the Flags column and you can hover over the last note to see your message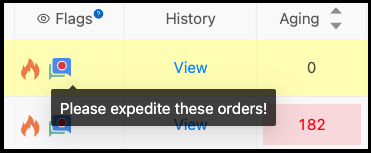 Removing the Hot Status from a PO Line
1) Select the lines you want to remove from hot by clicking the checkbox next to each line with a flame icon under the Flags column that you want to remove

2) Once you click the first checkbox the Choose an Action flyout menu will appear on the left side
3) Click Remove Hot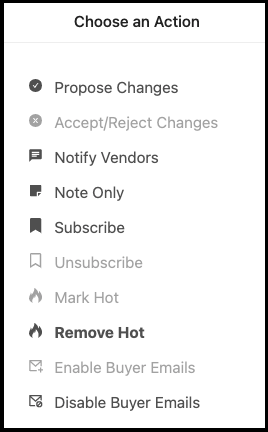 4) Enter your message in the Comments field

5) Click the Remove From Hot button to remove the hot status from the order(s) and send your message to your supplier(s)
6) Once an order has been removed from hot the flame icon

will be removed from the order in the Flags column and you can hover over the last note to see your last message