What Are We Trying to Accomplish?
Buyers or viewers can receive all the same notifications another buyer would receive for selected lines with the Subscribe action. This action helps other users stay updated when they are not the primary buyer on a PO. This is the only action available to users with a Viewer license.
How Do I Do It?
You will need to be in the Purchase Orders section in order to subscribe or unsubscribe from a PO line. You can get to this section by clicking on "Purchase Orders" at the top of your page.
Subscribe to a PO Line
1) Select the lines you want to subscribe to by clicking the checkbox next to each line
2) Once you click the first checkbox the Choose an Action flyout menu will appear on the left side
3) Click Subscribe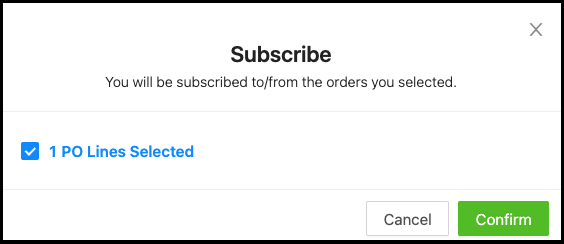 4) Click on the Confirm button to start subscribing to the order(s)
5) Once an order has been subscribed to you will see a bookmark icon

next to the order under the Flags column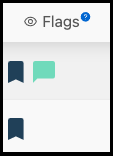 Unsubscribe From a PO Line
1) Select the lines you want to unsubscribe from by clicking the checkbox next to each line

2) Once you click the first checkbox the Choose an Action flyout menu will appear on the left side
3) Click Unsubscribe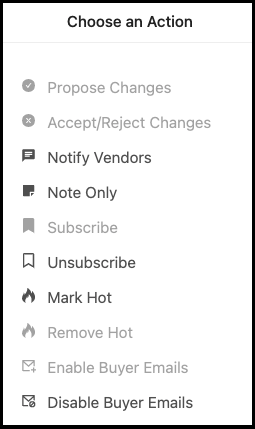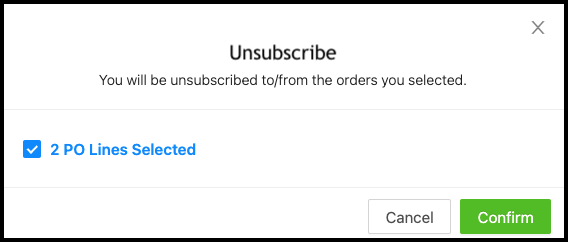 4) Click on the Confirm button to stop subscribing to the order(s)
5) Once an order has been unsubscribed to the bookmark icon

will be removed from the order under the Flags column