What Are We Trying to Accomplish?
Delete allows you, the accountant, to delete invoice records from the Invoice Automation platform if you are no longer able to process the invoice in SourceDay. Once you delete an invoice record you will not be able to recover that invoice record, but you can always re-upload the same invoice or a new version of that invoice.
Available for: Needs Review and Pending Processing views
How Do I Do It?
1. From the Pending Processing or Needs Review Tabs select the line or lines by clicking on the open box. This will open an Action Menu. Note you can select ALL the invoices in the tab by clicking on the open box in the header line. You can also select multiple invoices to perform this action in bulk!

2. Select Delete Invoice Uploads (from Pending Processing) or Delete Upload Review (from the Needs Review Tab).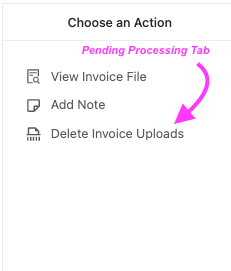 .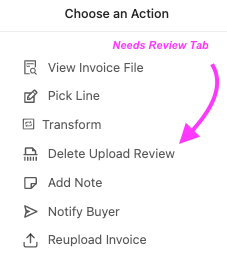 3. Click on the red Delete button to permanently delete the selected files.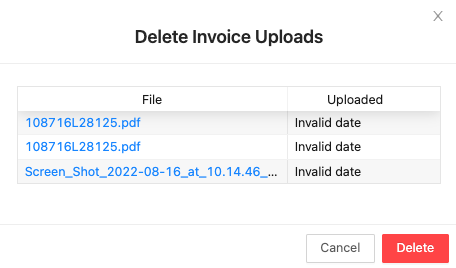 Once deleted you will not have the option to cancel the delete. You can always upload that invoice again if you need to or a new version of the same invoice. You will receive a notice at the top of your dashboard informing you that all invoice uploads you have selected for deletion have been successfully deleted.
Keep Learning
Understanding the Pending Processing Tab
Understanding the Needs Review Tab