What Are We Trying to Accomplish?
There are times when it is just necessary to have a hard copy of a document. SourceDay has two ways for users to print POs. Buyers will be able to from the PO Details view page. While suppliers can print in bulk from the PO Dashboard or individually from the PO Details view. Remember suppliers also have the option to print POs from the email notification of new POs.
How Do I Print from PO Details View?
1. To view the PO Details view you can click on the PO Number from any tab in the Dashboard.
2. Or from any Action Window you can click on Purchase Order to open the PO Details View page.
From there you simply click "Print PO Report" on the right side. This will open an additional window with a downloadable and printable pdf for both buyers and suppliers.
How Do Suppliers Print from the PO Dashboard?
The Action Print PO allows suppliers to generate a PDF or CSV copy of a Purchase Order to print or save at any time directly through the SourceDay platform. This action can be performed on an individual order line or in bulk for up to 100 order lines at a time. Note: This action is only available for suppliers.
Available from: All views
How Do I Do It?
1) Click the checkbox on each order line you would like to generate a PO PDF from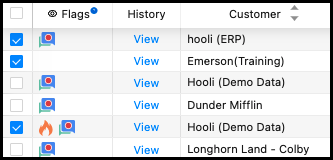 You may also print all items by checking the open box in the top row. This will select all lines in view.

2) Select Print PO from the Choose an Action menu
3) Select the format you need using the blue toggle buttons
Individual PO PDFs
Combined PDF of all the POs selected
CSV
NOTE: if this box does not appear, you may need to allow pop ups for the SourceDay Application
4) Click the Print button to generate a copy of the PO to save or print
Click the Cancel button to exit
5) Click on the Reports module to access your purchase orders
NOTE: You will see a line in the Report for each PO line that you clicked. The same PDF will appear for each line in the report for that PO. We are working on a fix for this issue.
Click the View button to print or save the PO
Click the Delete button to delete the PO copy
Green Arrow Icon
This icon represents an order line that has had the PO PDF generated and saved or printed. The green arrow will disappear if a change is made to the order to indicate that the PO PDF needs to be generated again to have an up-to-date copy.