What Are We Trying to Accomplish?
The Shipments Dashboard enables Buyers and Suppliers to view and track all shipped orders from one screen. Only orders that have been marked as shipped by your Suppliers in SourceDay will appear on the Shipments Dashboard.
How Do I Do It?
1) Click on the Shipments module at the top of your platform screen
2) In the Shipments Dashboard, you can review all details provided for each shipment line. Each column can be used to sort the dashboard in ascending or descending order using the up/down arrows next to the column name.

3) You can filter the Dashboard by Active Shipments or Inactive Shipments
Active - Shipments that have an open PO & an open shipment
Inactive - Shipments where the PO can been moved to a final status in the Buyer Company's ERP OR that have been Unshipped by the supplier
All - This filter will display both active and inactive shipments

4) Clicking on an ASN Number will filter the dashboard to display shipments using that ASN
5) Click the Tracking Number to access real-time tracking data
Tracking data will be visible only if the Supplier shipped using one of the carriers that integrates with the third party, AfterShip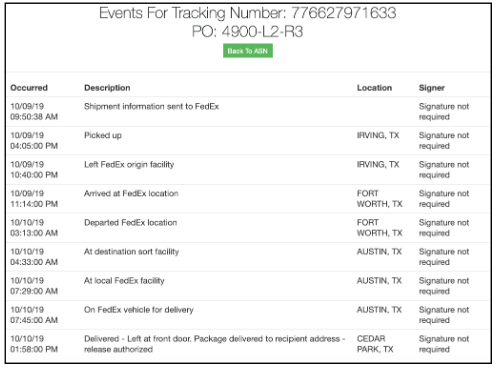 Keep Learning
Mark an Order as Shipped for Tasks or on the PO Dashboard
Understanding the Shipments Dashboard - you are here
How to Edit Shipping Information