The Mission
In this section we want to help you understand what to expect during the onboarding process and the steps that it takes to take an invoice from entering into SourceDay through being paid out of your ERP.
The Onboarding Process
The delivery teams at SourceDay are here to:
Integrate SourceDay with your ERP
Help you understand the product and how to use it
Work with you throughout our partnership to find value
Provide guidance in choosing the best settings for you
The team is here to help you with determining the configuration of your application, and will work to understand your business and priorities so that we can inform you of the best practices based on our experiences with companies like yours. Because every company is different, we do rely on you all to actually click the buttons for the settings for these customizations with our guidance.
When you start working with the team you will encounter team members specializing in integrations, training, support and customer success. We are here to help you. If you have questions during this time, or after, simply email support at support@sourceday.com and we will help ensure that your ticket gets to the right place.
Let's Start with a Visual
New things can be confusing, stick with us and we'll help get you on the right track and keep you there. Here is a high level picture to help you see what is happening on the SourceDay side, and what is happening in your ERP: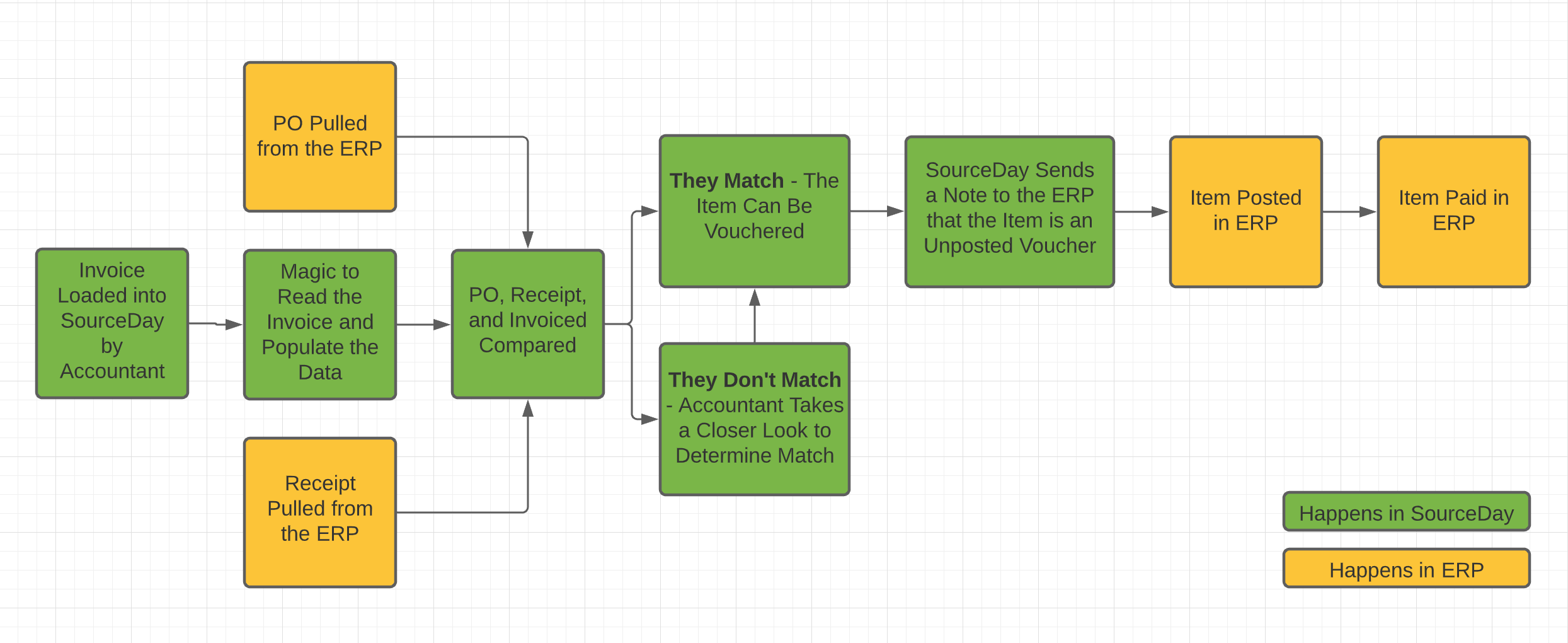 The Nitty Gritty Flow of Your Invoices from Supplier to Payment
Your suppliers can email in invoices once an approved template is in place (or you can load invoices into SourceDay)
Our system pulls the data out of the invoice and populates it into SourceDay
Then SourceDay will look for a matching PO in your ERP
Next, SourceDay will look for a receipt in your ERP once per day; as an accountant, you can do a pull, but you can only pull one line at a time.

While the system is waiting on a receipt, it will be at a status of "Awaiting Receipt". It can also be in this status if the receipt data in the ERP is less than what the invoice says it should be.
The invoice can also have a status of "Needs Review" if things aren't matching up as expected (we can't find a line with the part number, the quantities or costs are different...)

Now, the magic happens inside SourceDay. The data from the PO and Invoice will be compared.

If there is a match - you can Voucher it.
If there is not a match, we will ask you to put some human eyes on it to ensure a proper match. Once the information it verified, it's ready for you to Voucher.
If you were trying to voucher too many items at once you may get a Voucher exception
If an invoice has already been paid in the ERP, you will see a failed voucher

Once Vouchered, we will send a note to your ERP that the item is an unposted voucher
Once it's posted in the ERP it will show as posted in SourceDay
Once it's paid in the ERP it will show as Paid in SourceDay
If the invoice has been voided during the process it will show as voided in SourceDay
Now the real fun starts - Getting Started with Invoice Automation - Who's Doing What
Missed Something - Want to Go Back or Forward?