What Are We Trying to Accomplish?
Editing will allow you to make changes prior to deciding to submit the non PO invoice to your ERP. By editing the invoice you will be able to save changes as you go, giving you the time needed to ensure that your GL codes, vendors, and payment terms are all correct.
How Do I Do It?
In order to edit the non PO Invoice prior to submitting it to your ERP, select Edit from the blue lightening bolt action menu on the non PO tab.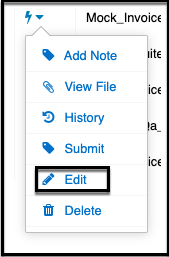 In the non PO Invoice pop-up that appears when you click on edit, you will be able to update the following information:
Endpoint (if applicable)
Site (if applicable)
Vendor
Location ID (if you are using Netsuite as your ERP)
Payment Term Code (if applicable)
GL Numbers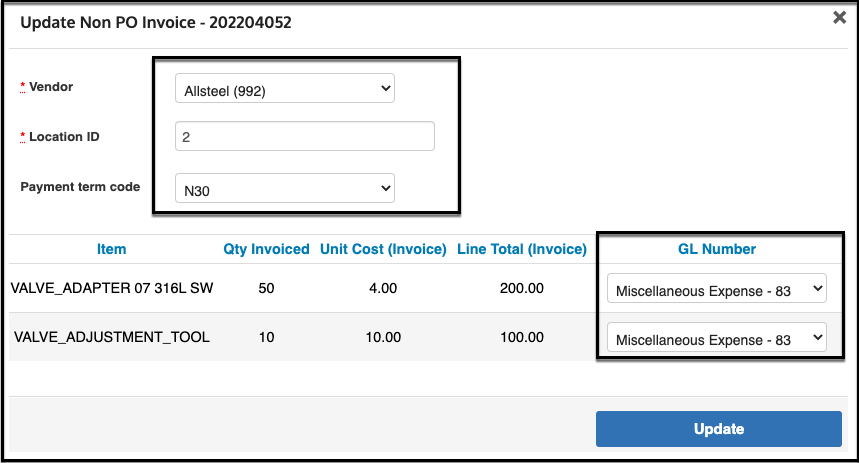 Click Update to save your changes
Keep Learning
Getting Started with Accounts Payable Non PO Invoices
Completing a Non PO Invoice in SourceDay and Submitting it to Your ERP
Spotlighting New Functionality
Non PO functionality is currently available for the Visual, Netsuite, and Syteline ERPs. Since this is newly launched functionality, if you are interested in starting to use this functionality, please either click here to enter a ticket or email support@sourceday.com.
This functionality is coming soon for Epicore (On-Prem and Cloud)
Other ERPs will be added over time, but these will be the first launched to our customers