The Mission
Before we go crazy throwing you into the product, let's dip our toes in starting with a picture of the different paths your invoices can take through the product: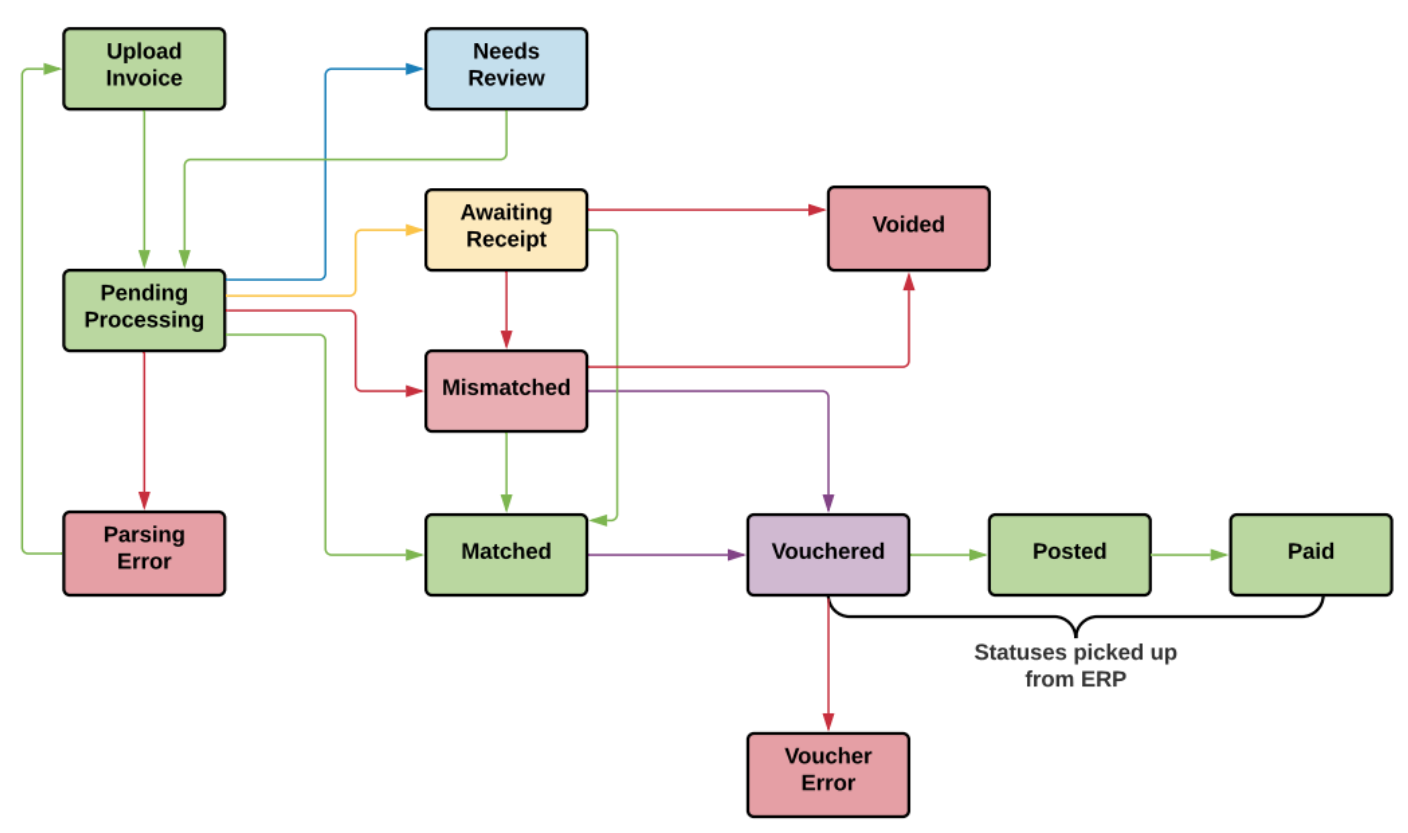 Each one of these stages has a tab within the Invoice Automation product so that you can easily understand where your invoice is in the process. Keep in mind, we will be going into these as we go through the guide, this is just meant to introduce you to the concepts. The links are there to dive deeper if you're interested, or you can float at this level for a bit before taking the plunge. For now, let's take a look at what each tab represents in the process.
Tabs Related to Uploading
Upload Invoice
Pending Processing - Invoices in this view have just been uploaded into SourceDay or are Invoices that do not meet the requirements for processing. Items with Parsing Errors will appear on this tab.
Tabs Related to Processing
Needs Review - Invoices in this view need an additional look as the invoice and PO lines/releases are not clearly connected.
Awaiting Receipt - Invoices in this view are waiting on the receipt in order to complete 3 way matching.
Mismatched - Invoices in this view are orders where the 3 way matching is not quite lining up.
Matched - Invoices in this view are matching as expected and ready to be vouchered.
Tabs Related to Payment (or Non-Payment)
Vouchered - Invoices that were vouchered through the match and mismatched tabs.
Voided - Invoices that have been voided.
Voucher Errors are comprised of: Voucher Exceptions - vouchers that seem to have not made it from SourceDay to the ERP and Failed Vouchers - vouchers where the push to the ERP failed.
Posted - Invoices that have posted to your ERP.
Paid - Invoices that have been paid from your ERP.
Whew! - I Know That Was a Lot - Now Onto The Time Savers - Getting Started with Invoice Automaton - How to Get Invoices into SourceDay
Missed Something - Want to Go Back or Forward?