The Mission
Entering shipping details into SourceDay will help your buyers better understand where their orders are and prepare to receive these orders. SourceDay gives Suppliers the ability to provide their customers with advanced shipping notices (ASNs) and tracking information on one or multiple lines simultaneously. This helps Buyer Companies track shipments and stay up to date with the status of orders.
While marking orders as shipped in SourceDay, Suppliers will be able to ship multiple order lines to the same Buyer Company. When doing so, Suppliers will provide shipping details that apply to all order lines selected in the Shipment Header Options. Suppliers can then add specific shipping and packing information per line under Shipment Lines.
The level of detail required for marking orders as shipped may vary between Buyer Companies, however all shipments require the following information:
Box Quantity (if unsure, Suppliers can select 1)
Quantity of Items per Box (can list the total amount shipping if using 1 box)
The Shipped action will not be an available option on any orders currently in a Pending or Completed status or on orders with a proposed Canceled status.
To learn more keep reading or to visit our step-by-step walk through click here.
How Do I Do It?
Currently there are three ways to provide shipping details within SourceDay.
1. Line by line using Tasks.
2. Using the Shipped Action from the PO Dashboard (this will enable you to provide shipping details on multiple lines).
3. Uploading an excel/csv file with shipping details under Imports. Click Here to learn more about Imports.
Pro Tip - Just like riding a bike, it's best to start with training wheels (#1 - Tasks), then remove the training wheels (#2 - Shipping in Bulk), and then move on to riding down the big hill at the bottom of your street (#3 Imports). Each step becomes easier once you have mastered the previous step. You wouldn't try to learn calculus before mastering adding and subtracting, and then multiplying and dividing would you?
Option 1: From Tasks - Shipped
1) Select the order line from the PO Summary column (middle column). Remember you will not be able to ship orders that are pending, canceled, or completed. Pro tip: Focus on providing shipping details to order lines under Radar (remember those are approaching their due date) and on order lines under Late (these are past due).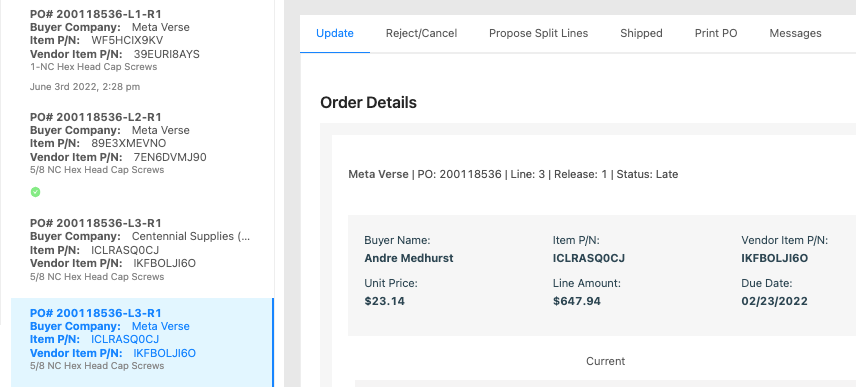 2) Just above the Order Details select the Shipped Action.

How to provide shipping details is outline below.
Option 2: From the PO Dashboard - Marking Orders As Shipped
1) Click the checkbox on each order line you would like to mark as shipped. Note: You can only ship multiple lines if they are for the same Buyer Company or Customer. You can grab as many lines as you want but only for one Buyer Company at a time (take advantage of the filter and filter the dashboard by Customer to work in bulk easily).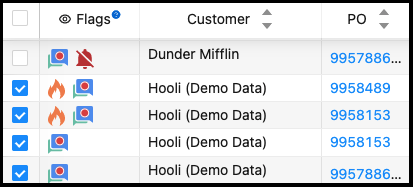 2) Select Shipped from the Choose an Action menu. Note: Some Suppliers will see Ready to Ship instead. Ready to Ship is a special shipment workflow that can be enabled by Buyer Company for suppliers who do not ship orders. If you have this option read more here.
Provide Shipping Details for both Option 1 & Option 2
Whether you are working from Tasks or from the PO Dashboard the next step will walk you through how to provide shipping details.
Let's go to the next step - Show me how to mark an order as shipped for tasks or on the PO Dashboard
Keep Learning - Shipments Guide
Mark an Order as Shipped from Tasks or on the PO Dashboard
Understanding the Shipments Dashboard
How to Edit Shipping Information