What Are We Trying to Accomplish?
The "History" action allows you, the accountant, to view the history of the Non PO invoice from upload through being sent to the ERP. This is also where you can see any changes that might have happened along the way.
Available for: Non PO View

How Do I Do It?
1) Click the blue lightning bolt dropdown on the invoice line
2) Select History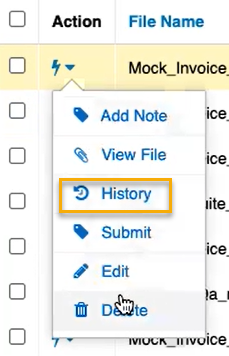 3) This will take you to a table that shows you the entire history for that PO