The Mission
The updates tab is where you will see all PO lines that have an update that was requested by the buyer. You will need to check any cost, quantity or date changes requested by the buyer and either agree to the requested updates, or request additional updates to those updates. This will move to the Awaiting Response tab in the Purchase Orders section once you have updated this record.
Understanding the View
When you are on the Tasks view, you can look at all orders that need to be updated under the Updates tab.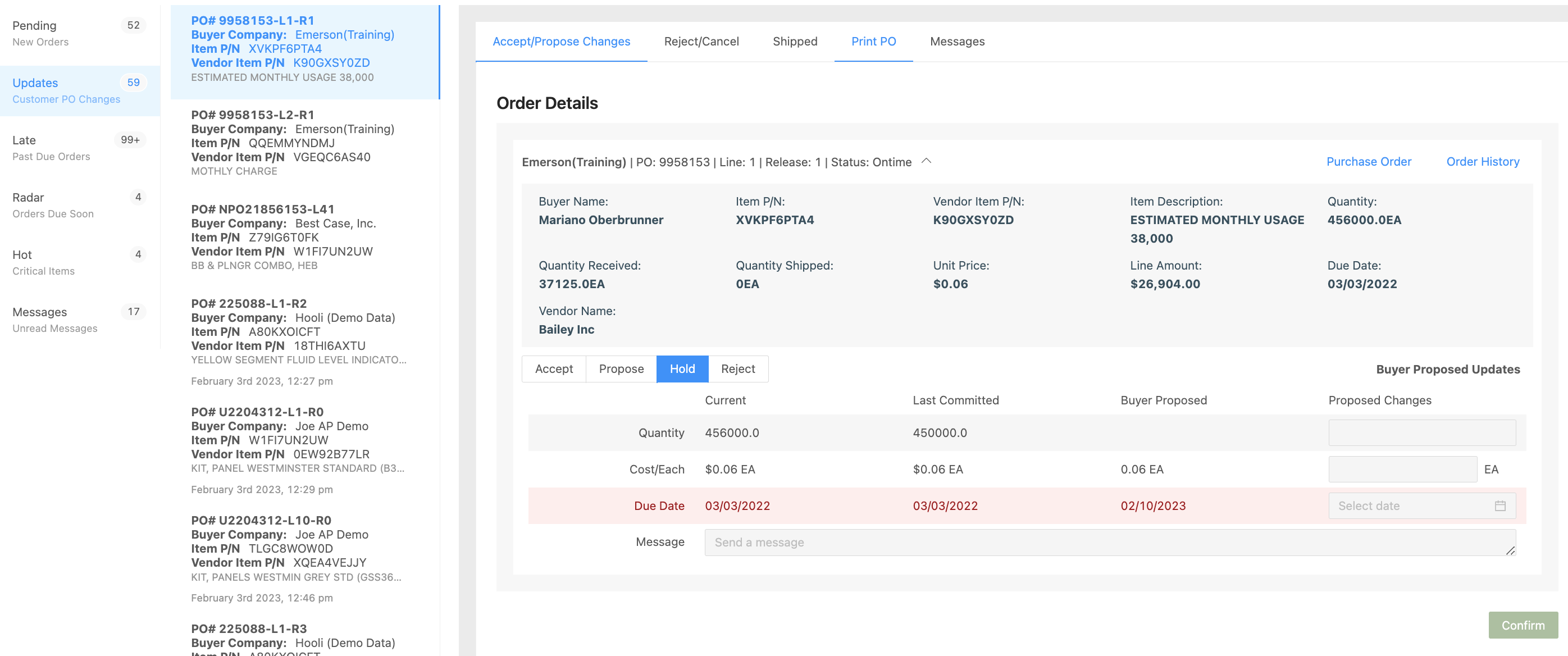 You can click through each PO line (in the middle column) which will change the PO details and actions that are displayed in the column on the right.
What Can I Do?
Acknowledge - This is the first step in PO Collaboration with SourceDay. If haven't acknowledged a PO line within a timely manner then the PO Line may also display in your Updates Tab. This action allows you to let the buyer know that you can fill the new PO line. With this action you can still request changes to the PO line from to quantity, cost, due date and message the buyer with additional details.
Accept/Propose Changes - This action is key when responding Accept Buyer initiated changes, Confirm the order as is, or Propose Changes. Coming Soon: Reject a buyer's proposed change, or Cancel the order line.
Reject/Cancel - Allows you to reject or cancel the PO line, basically letting the buyer know that you cannot take on this order. NOTE: If you need to make changes to cost, quantity, or due date, do not cancel the order - simply use the acknowledge action to request changes to those values. Coming Soon: This action will be available in the Accept/Propose Changes Action.
Propose Split Lines - Allows you to split lines into multiple shipments if the entire order cannot be fulfilled at once. Note: Split lines will not be available to all suppliers, this is a buyer dependent setting
Shipped/Ready to Ship- Allows you to mark an order as shipped or ready to ship. Note: Ready to Ship is only available to some suppliers.
Print PO - Allows you to choose between a PDF or excel print ready version of the PO
Messages - Add a message, see any conversations in process for the PO line
Bulk Updating Orders From the Purchase Orders Section
If you need to update a lot of orders at once, we recommend updating these orders in bulk which can only be completed from the Purchase Orders section.
Keep Going
Next up - Understanding the Late Tab