What Are We Trying to Accomplish
The purchase orders dashboard contains a wealth of information that you can customize for your viewing. This article will orient you to the dashboard as well as provide some quick tips on filtering, searching and sorting we can help you to better navigate this section in order to get you to the information you need, quickly.
How Do I Navigate the Dashboard?
One of the first things you'll notice is that Purchase Orders are organized at the line level by status. This gives users the visibility and ability to collaborate at the line level. These lines are further organized into tabs so you can see immediately what is going on with each order line.

To learn more about PO Collaboration organization with tabs click here.
How Do I Use the Dashboard?
Most supplier purchase order pages will follow this standard, if your page looks slightly different it is likely due to settings that have been put in place by the buyers in order to enable or disable functionality, however, all of these functions should be available: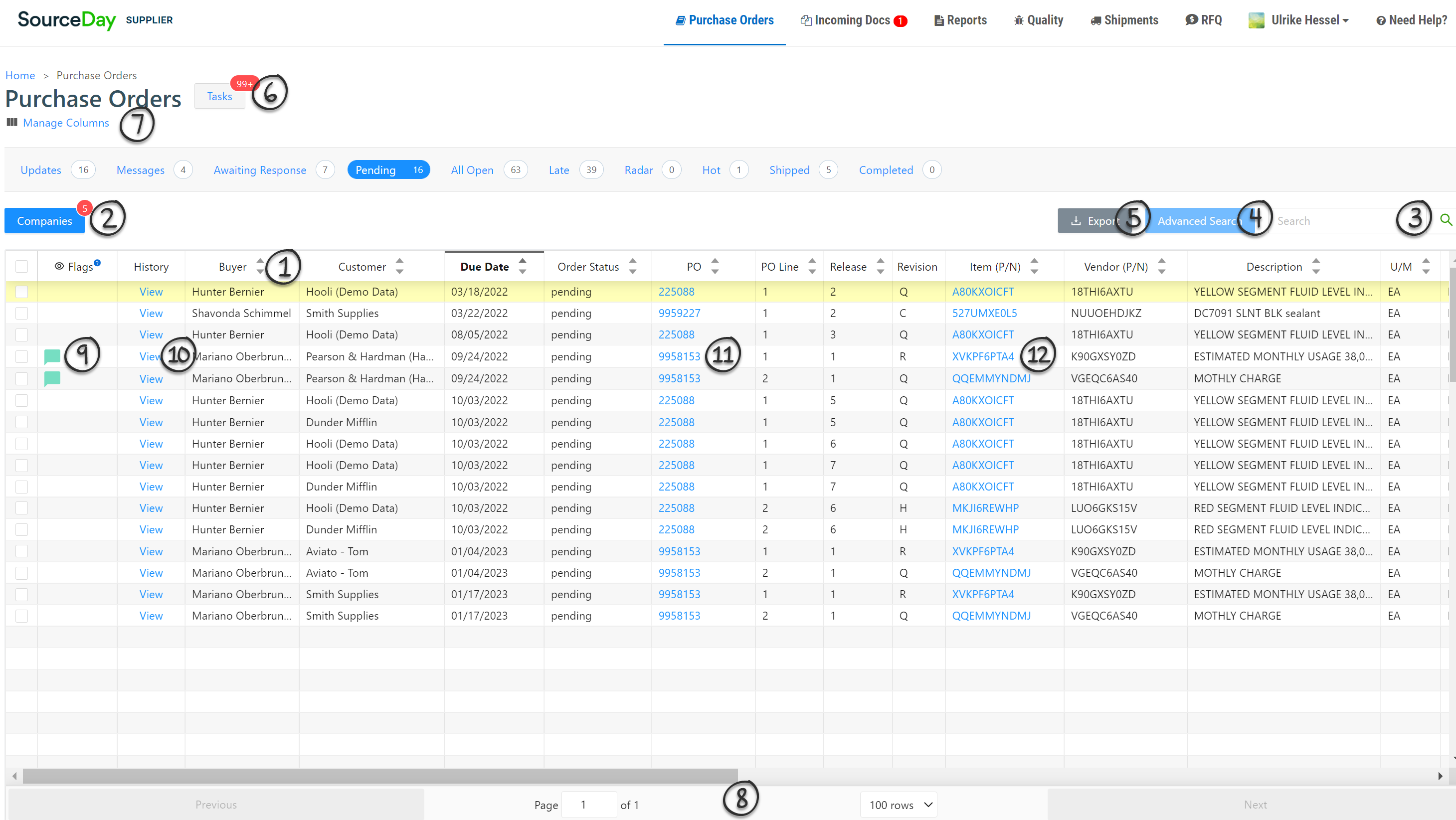 Sorting - Any column with the up down arrow can be sorted, if you wanted it to sort by ascending and they are currently in descending order, just click it again and it will sort in the other direction
Companies - This will allow you to filter by any of the companies that you work with, the red dot will show you if the values are currently filtering. If you do not filter, it will show all results.
Easy Search - This will basically search for anywhere your search term will appear in the results set in any column. Learn how to use the easy search.
Advanced Search - Allows you to search for your term within a particular column to narrow down your results based on the type of information you are looking for. Learn how to use the advanced search.
Export - Allows you to export the values from the tab you are looking at into either a PDF or XLS allowing you manage or share data in different ways outside of SourceDay. Learn how to export.
Tasks - Allows you to toggle between the tasks section (items that need actions or attention) and the PO section (all of the information regardless of actions needed) Getting Started with Tasks.
Manage Columns - Allows you to add, remove, and move columns to better match your processes. Learn more about managing columns.
Pagination - Allows you to page through results listing and increase or decrease the number of results shown per page
Flags - The flags column will show notifications for new messages, Learn more about flags.
History - History will show you all of the steps that a PO line has been through since it's creation. Learn how to view PO history.
PO Detail View - This view will allow you to see all PO lines and details for the PO in question. Learn more about the PO Detail view.
Item/PN - Allows you to see details about the item/ part number for this PO. Learn more about the item history.
Keep Learning
Next up: Customize Your PO Dashboard
Understanding & Navigating the PO Dashboard <-- you are here.
Update Orders with Buyer Made Changes
Adding Shipping Information - Marking PO Lines as Shipped