What Are We Trying to Accomplish?
Sometimes invoices are processed manually in your ERP or fall into the Voucher Exceptions / Failed Voucher views and we want to move the invoice to the appropriate status in SourceDay. The Mark as Vouchered action allows you, the accountant, to move the invoice to the Vouchered view.
Available for: Awaiting Receipt, Mismatched, Matched, Voucher Exceptions, and Failed Vouchers views
How Do I Do It?
1) Click the blue lightning bolt dropdown on the invoice line
2) Select Mark as Vouchered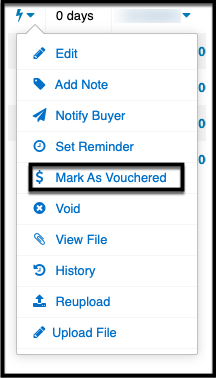 3) You will see a success message once the invoice has moved into the Vouchered view