New Feature Update Coming Soon!
What Are We Trying to Accomplish?
Reports are a big part of identifying areas of improvement and keeping everyone in the company up to date. Scheduled Reports makes it easy for Buyers and Suppliers to generate specific reports on a regular basis and have these reports delivered directly to your email inbox. Our recent upgrade to this feature will make reports easier to generate, schedule, and share among other users.
How Do I Do It?
Reports are available for buyers and suppliers within our PO Collaboration tool.
Buyers can find reports under Performance Insights.

Suppliers can find reports under Reports.

1. Select a report from the Available Reports menu and click Run.
2. Set up the parameters of your desired report.
In the example below we've selected a Full Tab Export. I'll need to determine which tab of the PO Dashboard and in what format (CSV/Excel or PDF).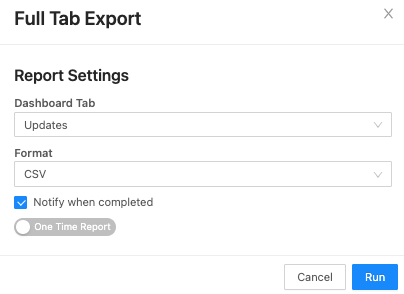 3. Determine how often you want this report to run. For a one-time report - leave as is with "One Time Report" showing & click Run.
4. The Report will generate and run in the background. Be sure to check the Notify when complete box to receive the report via email. The email will receive a link to the report. The link will work for 14 days after the report is generated.
5. Scroll down to view Generated Reports. These will be available for download for two weeks after they are created. Any SourceDay user in your company will have access to these reports.
To Learn How to Schedule a Report click here.