What Are We Trying to Accomplish?
The Export function allows you to export the contents of a request from RFQ into a CSV/Excel or PDF file. This can be helpful when entering RFQ data into your ERP when you are creating your Purchase Order.
Where Can I See It?
From the main requests dashboard, click on the title of the request that you would like to export. When you are on the request detail page you will see an export dropdown at the top right of the page.

How Do I Do It?
1) Click on the Export dropdown
2) Select CSV or PDF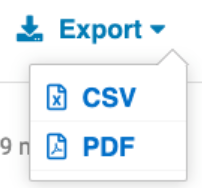 3) The file will be loaded to your downloads folder in order for you to view the file.
Request Example