What Are We Trying to Accomplish?
The Requests dashboard is your default landing page for RFQ. This is that tab where you will create new requests and track the progress and updates on your current requests.

How Do I Do It?
Let's take a look at the different columns in order to better understand the dashboard.
Buyer
Name of the buyer who created the request
Title
The title given to the request upon creation
Status
The current status of the request:

Draft
Published
Awarded
Retracted
Closed and Revised
Expired
Deadline and Time Left
The current deadline date and time for suppliers to submit a bid
The time remaining for suppliers to submit a bid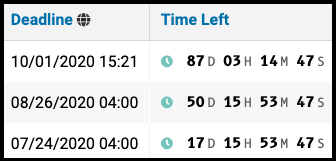 Items
Number of items on the request
Invited
Number of suppliers invited to the request
Submissions
Number of suppliers who have applied to the

request so far
Declined
Number of suppliers who have declined the request
Documents
Number of documents uploaded to the request
Unread Questions
Number of questions submitted by suppliers that

have not been read yet by the buyer