What Are We Trying to Accomplish?
After you have published your RFQ suppliers will be invited to submits bids. When bids are submitted a new section, entitled Supplier Submissions, will appear in your view of the request. You can get a quick summary of the quotes submitted by your suppliers and either Accept Entire Bid or Reject Entire Bid directly from this section.

You can click on Detailed Comparison to compare all of your quotes side by side and choose individual bids for items.
Where Can I See It?
Detailed Comparison
This section gives buyers a more detailed view of the bids submitted by the suppliers. Buyers are able to compare bids side by side for each requested item and select items individually that they want to award. This means that you can select items across multiple suppliers depending on which supplier is giving you the best price, lead time, etc. We call this Cherry Picking.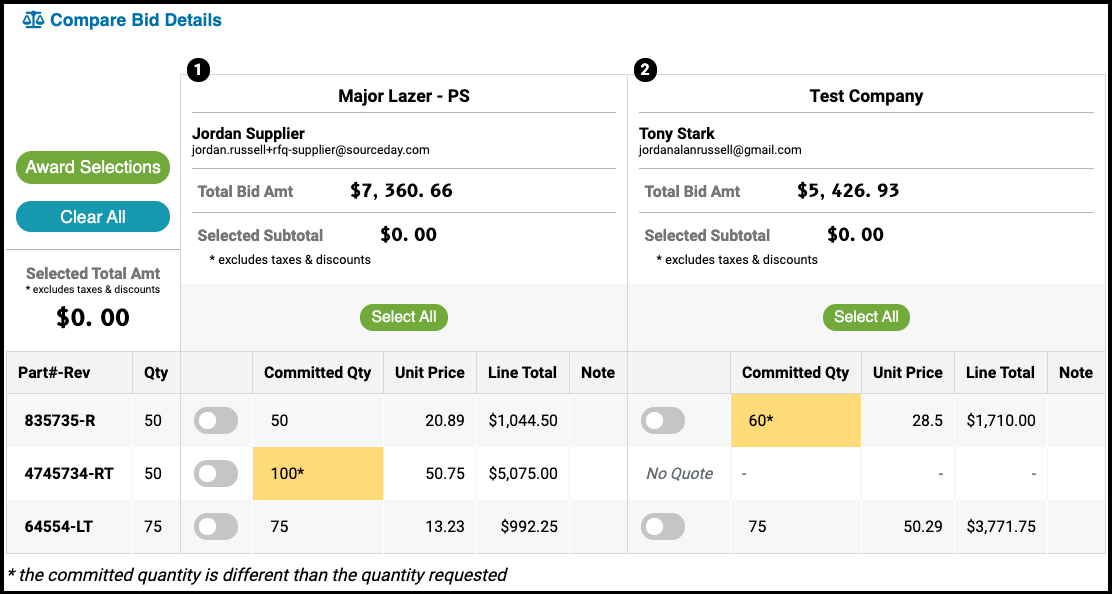 Committed quantities submitted by your supplier that do not match the requested quantity will appear with an asterisk * and will be highlighted in yellow.
Selecting Bids
Buyers have the option to select all item bids for a single supplier or they can select individual items across multiple suppliers.
Select All
Click the Select All button to flip the grey toggle to blue and highlight in green all items and bids for that supplier


Click the De-select All button to unselect those item bids for that supplier

Select Individual Items
Click the grey toggle on each individual item you want to award to flip that toggle to blue and highlight that item in green

Amounts
Total Bid Amt
This will display the total bid amount for all items and includes taxes and discounts.

Selected Subtotal
Each supplier subtotal will be displayed based on your item bid selections for that supplier. These subtotals exclude taxes and discounts.

Selected Total Amt
The total amount of all selected item bids will be displayed and updated as you continue to select bids. This total excludes taxes and discounts.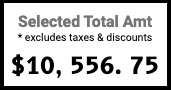 Award Selections
Once you have chosen the item bids you want to award, click the Award Selections button to notify your suppliers of the bids they have been awarded.

If you have not selected one or more items to be awarded to a supplier you will be asked to verify that you would still like to submit the selected items to be awarded if there are remaining items that have not been selected.

Any items in the request that have not been selected to be awarded will remain open until the item bid has been awarded to a supplier. Awarded items will appear highlighted in green.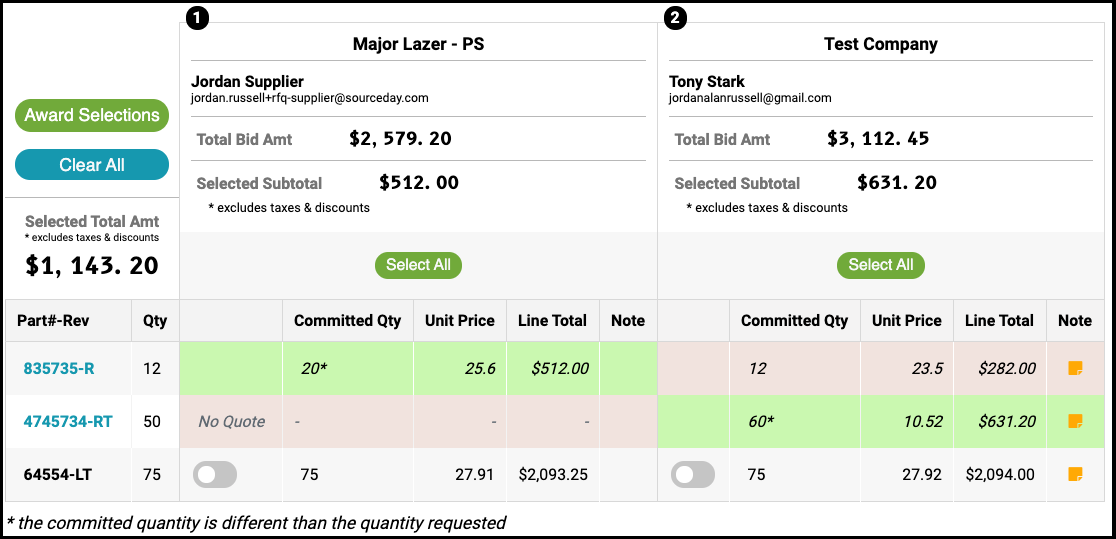 Clear All
Click the Clear All button to remove your selections and start over

Compare Bid Details
This option allows buyers to control which supplier submissions you can see and control which columns of item information you want to use when comparing bids.
1) Click Compare Bid Details

2) Click the checkboxes to enable/disable supplier submissions or enable/disable columns of item data to compare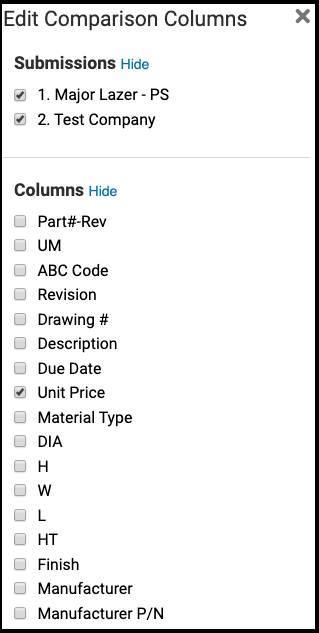 Keep Learning